– Press release
The Fort Independence's Travel Plaza is delighted to announce the addition of a new Chef at their Tunapi Grill. Chef Michelle (Mike) Hanson has taken on the duties of overseeing all aspects of the Fort's food operation.
The Travel Plaza is located just 2 ½ miles north of Independence and in addition to the Tunapi Grill, offers a convenience store, gift shop, truck stop and Winnedumah Winns Casino.
Chef Mike's has an extensive culinary background starting with doing kitchen prep for an Armenian food/hamburger stand in Fresno when she was only 9 years old. Chef Mike has been the Chef and Director of Purchasing for the Central Valley's famed Harris Ranch, the Chef at a Las Vegas Casino and for 14 years was the Chef at the Four Diamond Furnace Creek Inn in Death Valley National Park.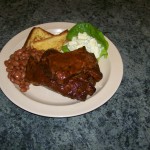 So what brings a gourmet trained Chef to a Grill located at a convenience store/fuel station? "I love the Eastern Sierras, I enjoy a good challenge and I see huge potential at the Fort to continue and increase the rapid growth it has experienced over the past few years. We have great fuel prices and that draws in a lot of people to our location. This gives us a tremendous opportunity to show a lot people just what we can do here. Who doesn't enjoy a good meal prepared well, priced right and served with a smile? That's what we're all about here at the Fort…great products, great value and great customer service".
"We are very happy to have Chef Mike here with us at Fort Independence" says the Fort's Operation's Manager David Woodruff. "Grill sales have increased dramatically just in the short time she' been with us. We have big plans for our future, including a special Valentine's Dinner, weekly dinner specials and off site catering. We're even planning a four course Winemaker's Dinner for the spring."
The Fort will be hosting a "Meet the Chef- Open House" at the Tunapi Grill on Friday evening January 23rd from 6pm to 7:30 pm. Guests will have the opportunity to meet Chef Mike and sample some of her menu. The event is free and open to the public. For more information on the Fort's Open House you can contact David at 760 878-2483.