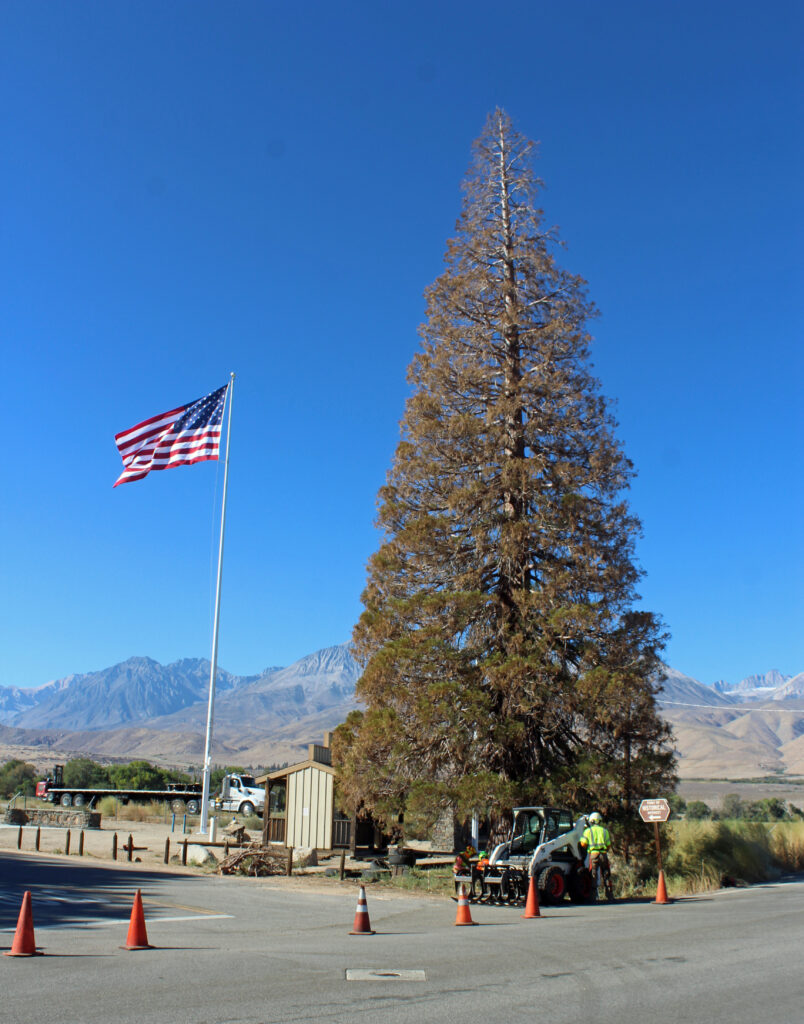 This morning I watched along a couple of dozen other people from the town of Big Pine as The Roosevelt Tree, located in the Big Pine Veterans Memorial rest area, was cut down. On this beautiful, wildfire smoke-free Monday morning, Sept. 28, we watched as the giant sequoia was felled 107 years after it was planted. The tree had to be removed due to a combination of not enough water, soil compaction, stress, and disease.
If you would like to see the video of the tree coming down, taken by our videographer and Big Pine resident, Jesse Steele, CLICK HERE.
Considering that giant sequoias can live up to 3,000 years, this tree was a mere baby. Giant sequoias are the third longest-lived tree species. And to clear a common misconception up front, a sequoia is not a pine tree at all! Sequoiadendron giganteum is also called Sierra redwood, a coniferous evergreen tree of the cypress family (Cupressaceae), the largest of all trees in bulk and the most massive living things by volume.
Another common misconception is that the town of Big Pine was named after the Roosevelt Tree. As already explained, first, a giant sequoia is not a pine tree at all. Second, the town was named in 1870…and was purportedly named after another tree in the town some forty-three years before the Roosevelt Tree was planted. The tree for which the town was named was a big pine tree. People had a lot of imagination in those days.
For those of us watching the tree's removal, you could almost feel our spirits falling along with the tree as it began to tilt and then crash onto the pavement in cloud of dust, debris, and broken limbs flying into the air.  There was a communal sense of sadness…a sense of loss among those of us there. A lot of head shaking.
People can become extremely attached to a tree. It might have been a favorite tree that as a child, you first climbed from branch to branch, or one in which you and friends built a tree house, or the maybe the one that, whenever you played hide-and-seek, the first place everyone looked for you was somewhere in that tree, because everyone knew you had a "thing" about hiding in that tree. In the case of the Roosevelt Tree, "the thing" the town of Big Pine had for that tree was just the sheer beauty and majesty of it; a tree not normally found on the valley floor but higher up on the western slopes of the Sierra Nevada mountains between 5,000 and 7,000 feet in elevation.
And when the Roosevelt Tree was decorated for Christmas, well it became even more special and more beautiful.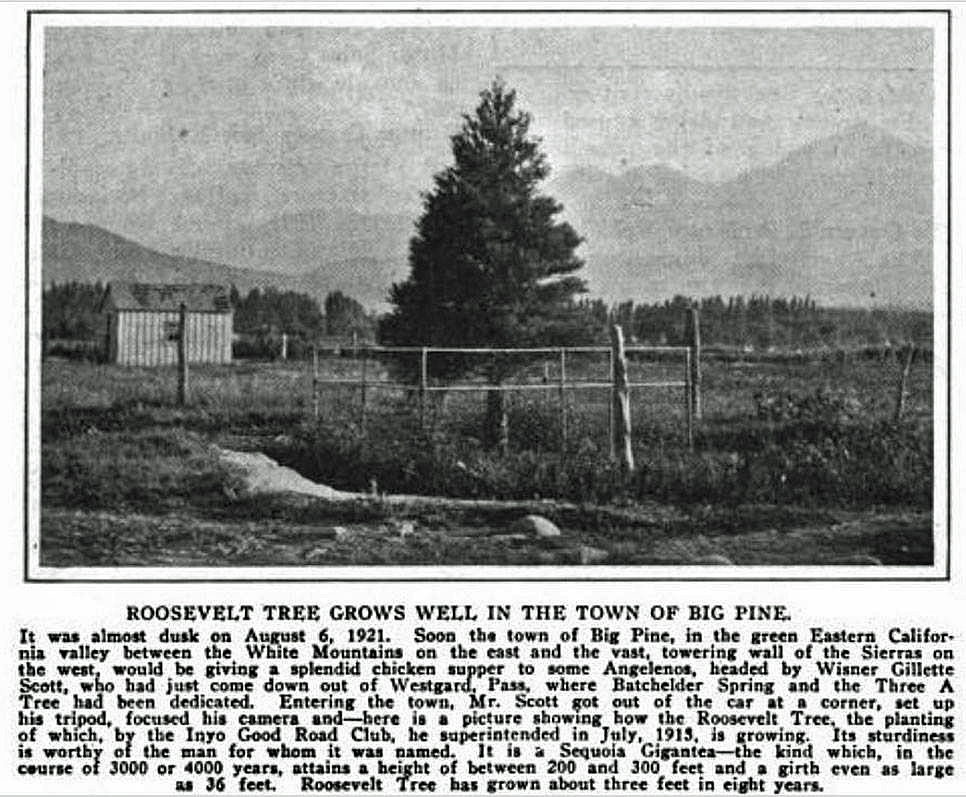 As the tree fell, I remembered a poem that came to mind titled, "Trees," a simple and gentle poem by American poet Joyce Kilmer. It was written in February 1913, the same year the giant sequoia, named in honor of President "Teddy" Roosevelt, was planted in Big Pine on July 23, 1913, when the Westgaard Pass was opened to automobiles.
The poem begins like this:
I think that I shall never see
A poem lovely as a tree.
(and it ends)
Poems are made by fools like me,
But only God can make a tree.
The people of Big Pine would agree that, yes, "only God can make a tree," but they would also tell you that a tree can make a lot of sweet memories.
[Many people are interested in what is going to happen to the wood from the tree. The Big Pine Civic Club has been taking suggestions and looking into making mementos from parts of the tree. Stay tuned to Sierra Wave for more information.]