To Be Rescheduled next week to give time to figure out how best to "moderate" the meeting and better handle the "call load" from those wishing to participate or just listen in.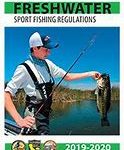 The California Fish and Game Commission had to cancel its emergency teleconference meeting scheduled this morning when the system being used was overwhelmed by the response from over 500 callers and they were forced to reschedule for next week as they couldn't pull together a quorum to vote as some commission members could not get on the line. It was a hot mess out of the gate with people refusing to "mute" their phones and shouting that they would "be heard!"
While a number of rural areas are clearly for the postponement of the fishing season, it was clear from shouts in the background that there are some very angry opponents to the idea of postponing and limiting or banning sportfishing. In some areas of the state, fishing is an immensely popular sport. And no doubt, there were those whose only intent was to disrupt the meeting and create havoc. Sadly, they succeeded.
You can't help but wonder how the Commission did not see this coming. First, there was the very short notice of the emergency meeting which gave the appearance that they were trying to push something through quickly over what they must have known would be controversial. And then Second, there are over a million licensed anglers in California, so there was considerable interest in this meeting, both from those "for bans and a postponement of the fishing season" in and around their communities, and those against it.
In response to accusations that he and state officials were planning to cancel the fishing season, California Governor Newson addressed the concern in his COVID-19 news conference today saying that the accusations are not true. He went on to say that he "loves fishing and that there has been no decision made." He hinted at compromise.
The Commission was to consider authorizing a limited ban on sportfishing in some areas and delaying the opening date for the fishing season amid the coronavirus pandemic at the behest of several, rural counties, and communities, most notably Inyo and Mono counties, as well as Sierra and Alpine counties. They have asked that the fishing season be postponed in their areas to prevent thousands of out of town anglers from coming in and spreading the virus to residents, overwhelming their local rural communities' resources and their ability to respond effectively to the crisis.
In a joint statement emailed to the news media after the meeting, CDFW Director Bonham and Commission President Eric Sklar said:
"We want to make it crystal clear that today's proposed decision was not about banning fishing statewide or locally and we are not contemplating statewide closure. The decision is to help prepare us to work with counties and tribes to make those decisions based on their requests. We are working on a tailored and surgical approach based on local needs and knowledge."
The state's position appears to be that "it wants to do something different."
Unfortunately, misinformation in comments shared on some Facebook postings have mischaracterized the issue, angering many readers on both sides of the issue.
But this is California and this is politics so, what else is new?