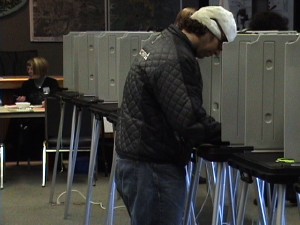 With many eyes focused on national politics, news developed locally for County Supervisor elections in June.  Seats are open in both Inyo and Mono
Counties and seats are also available on the Mammoth Town Council.
First, Inyo.  Clerk-Recorder Kammi Foote said that three seats will go up for election on the Board of Supervisors.  In District 2, incumbent Susan Cash has taken out petitions to run.  So has Bishop City Councilman Jeff Griffiths and Bishop resident Russ Aldridge.  In District 4, incumbent Marty Fortney has stepped forward to run and so has Independence resident Nina Weisman.  In District 5, incumbent Richard Cervantes has taken out petitions and so has Matthew Kingsley and Jim Gentry, all of Lone Pine.
In Mono County, Clerk-Recorder Lynda Roberts said that these seats are up for election: District 2 held by Hap Hazard, District 3 held by Vikki Bauer, and District 4 held by Tim Hansen.  Roberts said that at this point Hap Hazard has picked up petitions to run and so has Bob Peters for District 4.  Also on the ballot for June is the seat of Superior Court Judge Stan Eller.
Two seats on the Mammoth Town Council will appear on the ballot – those held by Mayor Jo Bacon and Councilman Skip Harvey.  Those interested in these seats must file with the Mammoth Town Clerk at the Town Offices.
Signatures in lieu of filing fees are due in by February 23rd.  Declarations of candidacy may be filed between February 14th and March 9th.