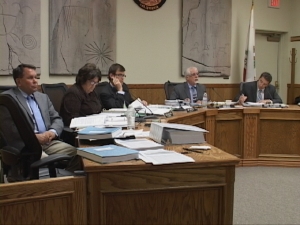 New upholstery needed 
by Daniel Pritchett
It's long been asserted that the upholstery in the chairs used by the Board of Supervisors (BoS) contains a secret chemical inhibiting the supervisors' ability to think critically about statements made by their staff.
Another example of this chemical's effects was seen when the BoS recently considered the proposed Munro Valley solar facility near Olancha.  As so often happens, an inadequate environmental review had been done and local residents objected to the project with good reason.  In addition, the Planning Department had drafted a general plan amendment (GPA) — applicable to the entire county — to facilitate the project.
The Owens Valley Committee (OVC) wrote and asked that the BoS at least modify the GPA so it would apply only to the parcels in question.  OVC even submitted sample language showing how the amendment could easily be re-worded.
What happened?
Planning Director Josh Hart reportedly asserted that the GPA applied only to the Munro Valley project parcels but cited no evidence to support his assertion.  Anyone who understands English and reads the amendment (only four sentences long) will see he is incorrect.  It contains no language constraining its application to the Munro Valley project.
What did the BoS do?
It asserted the GPA applied only to the Munro Valley parcels and approved the project.
We can expect more un-critical thinking in the next few weeks when the BoS railroads through the Adventure Trails program (December 2).  And BoS consideration of the Renewable Energy General Plan Amendment (REGPA) is just around the corner.
But didn't the BoS just approve a renewable energy general plan amendment as part of the Munro Valley Project?  It certainly did!  However, the forthcoming REGPA will be worse than the one for the Munro Valley project, because even the planning department admits the preferred alternative in the next REGPA will create significant adverse impacts to the viewshed, cultural, and biological resources.  And, of course, it will keep the door open for industrial-scale solar in the heart of Owens Valley, in the very places the public just last spring emphatically said should be closed to industrial-scale solar.
What a sad legacy this BoS will leave.  Instead of helping ranchers and Bishop homeowners dried up by DWP, this BoS helped DWP try to send more water down the aqueduct via the Owens Lake Master Plan/Project.  Instead of trying to sustain our quality of life, it is about to approve the Adventure Trails program, which will inflict green sticker dirt bikes and OHV's on Bishop Park and residential neighborhoods throughout the valley.  And, last but not least, it has done its best to keep Owens Valley open for industrial-scale solar notwithstanding the indignation of its constituents.
I hope when the new board convenes in January its first action will be to re-upholster its chairs.