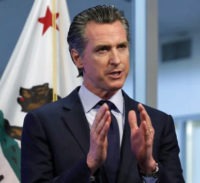 News reports, as late as two weeks ago, on Tuesday's recall vote made it sound like Governor Gavin Newsom may need to pack a bag and head back to San Francisco. But, based on results at 10:30 last night, the votes against the recall came in at 66-percent of the total. Newsom's safe.
The first sign, at least for political junkies, Newsom would come out on top came just an hour after the poll closed when MSNBC's Steve Karnaki, the cable news' political numbers guy, looked at early results from the more conservative enclaves of the state: San Diego and Orange counties. It was no contest; the "no" votes were running close to 66-percent of the early totals.
Both Inyo and Mono county voters ended up on the winning side, though the vote spread to keep Newsom in Sacramento was far wider in Mono County.
First Inyo numbers: No: 2,275; Yes: 2055. Larry Elder, who bought a lot of air time and followed the Trump political philosophy, led among the potential Newsom replacements with 1,538 votes.
Mono numbers: No: 1,945; Yes: 1,208 with Elder getting the nod from 867 of the "no's."
KSRW will check in with both county's registrars to get the final numbers later this week.