– Press release from Caltrans
Bishop – Bike to Work Week was a successful challenge due to five local agencies joining forces and encouraging their employees to participate. The California Department of Transportation (Caltrans), US Forest Service, Bureau of Land Management (BLM), Inyo County and Northern Inyo Hospital struck up a friendly competition challenging each other for the prized percentage of employee participation award. In addition, the most miles ridden was up for grabs.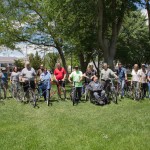 Caltrans had 15% of their employees participate which entitled them to the trophy for the highest percentage of employee's participation. In addition, they rode a total of 338 miles for the week.
Inyo National Forest had 14% of their employees participate and rode a total of 325 miles, BLM had 9% participation and rode 71 miles. Inyo County was at 7% but rode a whopping 683 miles with Larry Freilich riding 131 of those miles entitling him to the most miles ridden for the week. Northern Inyo Hospital had 3% of their employees participate and 127 miles ridden.
Bicycling was once a novelty of the Industrial Revolution, but now it provides a healthy, efficient, pollution-free way to commute. Bikes can reduce traffic congestion and noise, are easier to park, and free to operate! Everyone that participated would like to encourage others to try it, even if it is only once a week.
In all, 89 challenge participants rode 1,544 miles, which saved approximately 62 gallons of fuel for about $250.00 saved!
A big Thank You goes out to the sponsors of the event: Arrowhead Cycle, Value Sports and Bishop Trophy & Engraving.