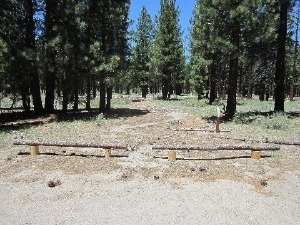 As citizens sound off against forest road closures, Forest Service Trails Coordinator Marty Hornick asks for calls with specifics, and Friends of the Inyo Director Stacy Corless responds to attacks on her organization's work.
Hornick did confirm that the Forest Service is willing to make adjustments in the current Travel Management Plan of road closures.  He said, "We have already begun to look at some things – either mistakes in the document or things that can be fixed readily."  The reconsideration of road closures will cost money, and the Forest Service effort to get a state grant for that purpose did not come through.  Hornick still maintained that the Forest is "looking at some places" for changes.
Asked to comment on the angry outpouring against road closures, Hornick said, "One of the sad things is that an awful lot of people are concerned now when we did have seven years of planning and four or five years of intensive public comment.  We did a massive outreach," he said, "and conducted some 50 public hearings."  Hornick said it "saddens" him that people are now saying the Forest Service blasted through or ignored comments.
Hornick said he does want to know about the key places to make improvements.  "We need good feedback," he said.  Hornick pointed to Mono Supervisor Vikki Bauer who he said sat down with constituents and held meetings in June Lake.  Hornick said, "They were developing specific, key concerns" for us to look at. "We will prioritize these," said Hornick, "and plan to fix them."  He did say the Forest Service "can not fix every problem."
Hornick restated that the Forest Service is supervising and working with Friends of the Inyo, which got a $600,000 State OHV grant for road restoration. Critics of the group have accused the Friends of contributing to the lack of access.  Director Stacy Corless said, "We believe in stewardship of the land."  She said the current work is all part of that and that there's "no black helicopter" circling overhead to take over the land.  "It's for the health and enjoyment of the land," she said.
Corless said the way to deal with things now is to talk to Marty Hornick, go out on the ground and make a case.  "That's the way to have resolution," she said.  Corless said she does have sympathy for people who are "hard-working citizens who don't have the time to go to meetings.  I know their frustration."  She added that it's "not appropriate to vandalize."  She supports "getting out on the land together, place by place to work together to make things better."
No one is complaining about other work by the Friends who recently organized 44 volunteers to open Duck Pass, TJ Barrett Trail and other trails in the Lakes Basin.  Corless pointed out that the Forest Service has been overwhelmed with the Reds Meadow blowdown of thousands of trees. Their non-profit organization has filled in.  "Our mission is caring for Eastern Sierra public lands.  We are not anti-OHV," said Corless.
Encouraged by the Forest Service to help with the road closure plan, the Friends of the Inyo applied for California Parks OHV funds.  Corless said one-third of those funds are specifically for restoration work, "to mitigate OHV damage," she said.
Corless had a message for critics. "We are here now.  Please don't turn anger and frustration into vandalism.  Talk to the Forest Service."
(Marty Hornick, Trails Program Manager for the Inyo National Forest Service, 760-873-2461, [email protected], 351 Pacu Lane, Suite 200, Bishop, CA 93514)