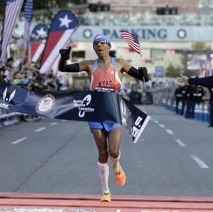 (Update on celebrating Meb)
Meb Keflezighi – 2012 Olympic Trials Marathon Winner
Come celebrate Meb Keflezighi's Olympic Marathon Trials VICTORY!
Meb will represent the US Olympic Team once again in London this summer and we want to bring him home after his big trials win in Houston this past Saturday with a warm Mammoth Lakes welcome!
Tuesday January 17 (Back-up day the 18th) The Village at Mammoth
4-6 p.m. with a ceremony at 5 p.m. to welcome Meb home
Music from Jeffrey James & the Wanted Gang
Stay tuned to Visit Mammoth on Facebook for any changes to the event and schedule.
CONGRATULATIONS
MEB!
NEXT STOP:
LONDON 2012 OLYMPIC MARATHON AUGUST 12, 2012
Mammoth Tourism Director John Urdi emailed the big news that Meb Keflezghi won the Olympic Trial Marathon in Houston, Texas.  Other Mammoth runners placed very well, too.  Here's what Urdi told the us:
"HUGE news today from the 2012 Olympic Trials Marathon in Houston.
I texted some of you earlier but here is an update from the Olympic Marathon Trials – first off congrats to coach Terrence Mahon for an outstanding day for Mammoth Track Club – GREAT JOB!
Meb WON an amazing men's race with a personal best of 2:09.08 (5 seconds better than Novembers NYC marathon and 22 seconds ahead of Ryan Hall).
Ryan Hall came in second and while we can't claim him he is still notable for his time in Mammoth Lakes.
For the women – Amy Hastings from Mammoth Track Club took fourth place and after speaking with the women's distance coach for the Olympics – she thinks there is a very good chance one of the other women in the top three will choose to compete in another event (10,000m) leaving a spot for Amy on the women's Olympic Marathon team.  We won't know about this until after the track trials in Eugene, OR end of June but it looks promising.
Deena Kastor was in the lead pack for most of the race and ended up with an impressive 6th place – not sure when she, Andrew and Piper are back in town but it would be great to do this when we have her back as well – I will check with Andrew tonight.
Other notable Mammoth Track Club athletes – Josh Cox 14th place, Patrick Smyth 22nd place and Jennifer Rhines 64 place.
We have a media reception we are hosting tonight and in light of our teams results today – I am anticipating a good turnout.
Meb and his family will be back in town on Tuesday around 5pm and I would very much like to see us pull together an event in the Village to celebrate his amazing victory today as well as the great success of the team overall.  I will know more about the rest of the teams schedule to return tonight and we may adjust this if it makes sense but some may not be coming back to Mammoth Lakes immediately.  I have heard back from Dion that the Village is in to host now we just need to dial it all in with just a few days."
Read the story: http://www.washingtonpost.com/sports/keflezighi-wins-mens-us-olympic-trial-flanagan-takes-womens-competition/2012/01/14/gIQAFfLlyP_story.html