Mammoth's Town Council continues to scrutinize numbers as they head into the beginning of their 2009/10 budget. At the Council meeting this week, Finance Director Brad Koehn presented each Council member with two large notebooks containing staff's proposals for next year's budget. According to Town Manager Rob Clark, the 2009/10 budget is balanced and assumes the same revenues that the Town has seen this year, which are $1.7 million less than 2007/08.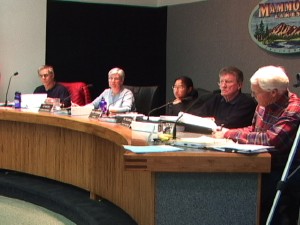 Over the course of their next three meetings, Council will hear more and make decisions on the numbers they are now carefully reviewing. At the May 6 Council meeting, they selected a Citizen Budget Oversight Committee with whom the Council will consult in the next month. The Committee consists of Lesley Bruns, Eric Wasserman, Rick Wood, Don Porter and John Vereuck.
Four items in the budget were earmarked as being most critical, so Town staff had prepared white papers on each topic to give the Council more information on the future of Capital Improvement Programs, the Reserve for Economic Uncertainty (REU), town staffing, and Police Department staffing. These white papers will also be presented to the Citizen Committee who will be asked to help come up with recommendations for these key budget items.
"We need to make sure we don't make a cyclical deficit a structural one," stated Councilwoman Jo Bacon.
Besides the Citizen Committee, the Town is also hiring the third party consultant Mountain Travel Research Program, to review next year's budget. This third party review was part of the negotiations the Town made with the employee associations when they were going through layoffs and cutbacks several months ago. According to Town Managaer Rob Clark, the associations are each contributing $1,000 toward the review.
The budget will be making its way around town in a road show fashion over the next month so that the entire community can become familiar with the proposed numbers. Budget overviews and workshops are scheduled for May 13, 14, 19, 26 and 30. Check the Town's website for more information on times and places.