Details about how two southern Inyo women lost their lives in Santa Margarita have appeared in the San Luis Obispo Tribune.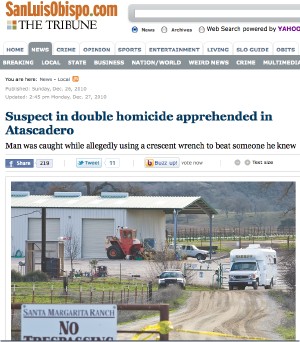 The published story says that Dennis Reilly of Lone Pine, husband of Beverly, walked into a horrible scene on Christmas Day. His wife shot to death and his sister-in-law gunned down in front of him. The Tribune reports that "a man wielding a pistol, naked from the waist down, nearly killed him, too."
The report says that Reilly ran from the home and tried to flag down motorists for help. At first, they didn't believe him. Police finally came. They found the two sisters shot dead.
Locally, a Celebration of Life will be held for Beverly Reilly and Kathy Yeager, Saturday, January 8 at 1pm at Boulder Creek RV Resort in Lone Pine. For more information, call 760-876-4243.
A local fund has been set up for those who wish to contribute to the family. Contributions can be made to the Reilly/Yeager Memorial Fund at Eldorado Savings Bank.