Since the late 70s, Mammoth Community Water District officials have worked on an environmental document to show the impacts of water flow levels on the fishery of Mammoth Creek. CalTrout had filed a petition with a complaint about water flows in 2004. Finally, parties involved have come up with a settlement agreement.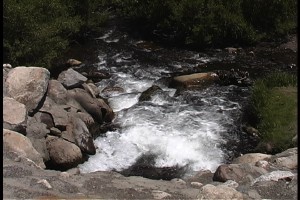 Mark Drew of CalTrout in Mammoth said that the Water District, Fish and Game and CalTrout have reached an agreement to differences over Mammotho Creek. He said the agreement resolves CalTrout's 2004 petition and sets minimum creek flows.
The Draft Environmental Impact Report, long in the works, will make reference to the settlement agreement. Drew said that working under temporary flows in Mammoth Creek for all these years did provide good data that the Water District recorded. Drew said the parties found the fishery in good shape and concluded that the temporary flows worked.
The Water District meeting set for this week was postponed, so discussion of this settlement will likely appear on the regular meeting in November.