Press release
After the first three performances of the Playhouse 395 stage production of Mary
Poppins, the reaction to the show was unanimous, "Practically perfect in every way!"
Everyone who attended said they thoroughly enjoyed themselves, leaving the theater
with smiles on their faces and songs in their hearts.
"Those kids were just amazing, how old are they?" gushed one lady about real-life sister and brother Ashley and Caleb Fitt who play leads Jane and Michael Banks. (Ashley is 10 and Caleb just 8.) "Bedazzling, and the costumes were just beautiful!" exclaimed a long-time Playhouse patron after the Sunday matinee performance.
"Wow, I loved it! I'm astounded at the local talent we have here. And to think they are all volunteers," marveled another.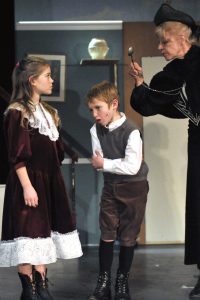 Young Jane and Michael Banks have sent many a nanny packing before Mary Poppins
arrives on their doorstep, and their father, George, is having difficulty at the bank where he works. Using a combination of magic and common sense, Mary teaches the Banks family members how to value each other again.
Mary Poppins runs just two more weekends, March 17, 18, 24 and 25 at 7 pm, and
March 19 and 25 at 2 pm in the historic Bishop Union High School Theater. Tickets have been selling exceptionally well so get yours soon so you don't miss out.
Tickets are available online or by phone. Visit Brown Paper Tickets at http://
www.brownpapertickets.com/event/2810206 or call 1-800-838-3006, or visit the Playhouse website at www.Playhouse395.com.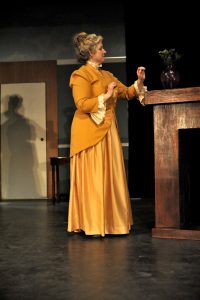 Tickets can also be purchased in-person in Bishop at two Playhouse 395 partner
locations: – Inyo Council for the Arts at 137 South Main Street; Mondays, Wednesdays and Fridays only from 11am to 2pm; Premium Reserved seats and General Admission – Bishop Chamber of Commerce at 690 North Main Street; seven days a week during business hours; General Admission tickets only.