Darrell Lloyd Moose, referred to as "Dandy" by his mother, "Pink Floyd" by his siblings, "Dad" by his children and "Moose" by most, passed away on Thursday, November 26, 2015 in Bishop, California while resting on a trail he had frequently walked since childhood. He was 62 years old.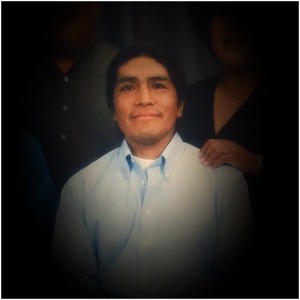 Darrell was born on June 9, 1953 at Northern Inyo Hospital, Bishop, California to Nelson Moose and Bertha Collins Moose. He was the second born in a family of seven, raised in Bishop on Brockman Lane. He resided both in Bishop and most recently in Big Pine during most of his adult life. He attended Bishop Union High School.
As a young man, Darrell was employed by the Inyo National Forest Fire Organization as part of the hotshot crew and later as a member of the helitack crew based out of Lone Pine, California at that time. He was offered a position with the National Forest Service and assigned to the Lake Tahoe Basin. Later in life he was employed with the Union Pacific Railroad originating out of Kansas for a number of years. He also worked for the Bishop and/or Big Pine Tribes when construction projects were available, but the work he valued most was Cultural Monitoring for the tribe. His mother, Bertha, was instrumental in getting her son involved and he loved it. He spoke often about his experiences at the different sites he helped to monitor.
Darrell was a gifted artist and freely gave his work away to those he cared about. He took special pride in drawing cards for his family and friends. Over the years several of his drawings were chosen for various tribal events. He liked being outside, puttzing around the yard, watching his family, children or grandchildren play sports, playing softball when he could, horse back riding, hunting, pine nut picking, riding his bike around, sipping "cold ones" with his buddies, and his favorite, fishing. Darrell had a wandering spirit that took him down many roads. When he was in a good place he burned his sage every morning offering his prayers. He was happiest cruising the back roads and fishing at his favorite spots.
Darrell was blessed with a large and loving family. He was married and divorced to Denyse McKellips Moose. He is survived by:
Their children: Half Moon Adams (Emily), Joseph Moose, Melyssa Moose Telly (David), Katie Moose (Jose), Darrell J Moose.
Cheryl Levine and their children: Rosie Moose, Allen Moose.
Violet Pierce and their children: Auwwahu Pierce, and Soda Moose.
Grandchildren: Ava, Kanon, Haiwee, Tanya, Thomas, Winter, Lil' Joseph, Liam, Maddox, Cian, Furious, Lucian, and Tristan.
Siblings: Roseanne Moose, Erwin Moose, Gaylene Moose, and Dave Moose.
Aunties: Delores Miller, Frances Moose and Mary Bowers
Nieces: Yonnie Gruber, Ann Moose, and Annisa Moose.
Numerous relatives and friends.
Darrell has been united with his parents, Nelson and Bertha Moose, brothers, George and Dean Moose, grandmother, Rosie Moose, great grandparents, Soda and Katie Tom, Uncle, Virgil Moose, Aunties, Lucille McDonald, Leora (Wendy) Moose, and Lenora Bowers, cousins, Gordon Moose, Dale Delgado, Raymond Moose and many friends.
A Cry Dance will take place on December 2, 2015 from 7:00-11:00 p.m. at 425 Callina St., Big Pine, California.
A funeral Service is scheduled for 11:00 a.m. on December 3, 2015 at Brune Mortuary. Graveside service will follow at the Big Pine Cemetery, on 601 W. Crocker St. in Big Pine. Darrell will be laid to rest next to his mother, Bertha Moose.
A reception will follow graveside services at the Alan Spoonhunter Memorial Gymnasium in Big Pine, CA