Next month, the Mammoth Planning Commission will choose two of three applicants to operate the first-ever medical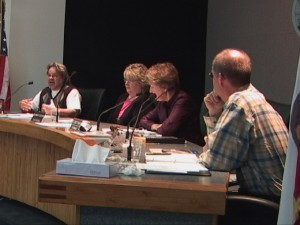 marijuana dispensaries in Mammoth Lakes.
Five applications originally went to the Mammoth Police Department. Chief Dan Watson and others reviewed the applications and deemed three of them as qualified, one as not qualified and one as withdrawn.
According to Town Planner Sandra Moberly, the next step goes to the use permit process for the three remaining applicants. According to the Planning Department, these three Mammoth Lakes people have applied for use permits to operate medical marijuana dispensaries: Steve Klassen, Robert Calvert and Dagmar Zila.
Senior Planner Moberly said that the staff will analyze the three applications and prepare a staff report for the Commission. Measure M approved by Mammoth voters allows for two dispensaries within town limits and spells out some other requirements. These dispensaries can only locate in Commercial General and Industrial zones. They must situate 500 feet apart and a minimum of 1,000 feet from public schools and other public facilities.
When the Mammoth Planning Commission reviews the applicants at their meeting October 27th, they may make certain findings which will lead to their selection. Some of the considerations commissioners discussed at their August 25th meeting include street level uses as they relate to dispensaries, visibility, access to transit, sensitive uses and hours of operation.
The October 27th Planning Commission meeting happens in Suite Z at 9am.