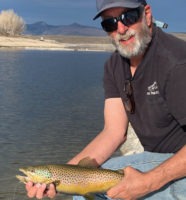 Sierra Bright Dot Fly Fishing Report 04-29-2022
Sierra Bright Dot Fly Fishing Guide Service
sierrabrightdot.com
At mid-day I drove from Riverside to Bishop on Thursday April 28th, 2022. I was surprised at the lack of motorhomes, trailers, campers, and boats on the highway. When I got into Bishop there were just a few boats and trailers to be seen. Friday before opener is the day that most anglers make the pilgrimage to the Easter Sierra for the trout open or more affectionately known as fishmas. When I was growing up in the 70's in southern California and lived in Mammoth Lakes in the 80's opening weekend was a much bigger deal. I can remember waiting at least an hour to get in the gate at Crowley Lake. There were huge crowds of anglers at spots like Crowley Lake, Convict Lake and the June Lake Loop.
For me opener is anticlimactic these days as I've been fishing all the fly fishing waters year round. I've even fished a few of the creeks that are not well known fly fishing waters, but are now open to winter catch and release fishing with lures and flies. For a while now, I spend opening weekend on Bishop Park Pond. Along with other volunteer guides I will be teaching 6 to 12 year old's how to fly fish. This event is called Fish Camp.
As part of fish camp the campers are allowed to catch and release fly fish in Bishop Park Pond.
Lower Owens River:
Wild Trout Section:
Flows have gone up slightly to 175 CFS and I think they will continue to slowly rise as City of Los Angeles Department of Water and Power is increasing flows to full fill irrigation commitments in the Owens Valley. It usually takes a few days of steady flows for the fish to acclimate to the increased flows. There has not been much surface activity from the wild brown trout. There are a few size 20 blue wing olive mayflies and some size 16 pale morning duns hatching. Nymphing has been the most productive method of fly fishing the lower river. I've been using size 18 bead head flash back pheasant tail nymphs and size 16 and 18 bead head flash back gold ribbed hare's ears. A mop fly is a pattern that works well or produces nothing. I had my first couple days of seeing a client catch fish on a tan mop fly last week.
Chris Hortinela from Santa Barbra being instructed by future Sierra Bright Dot guide Richard Lancaster on the catch and release section of the lower Owens River.
Hot Creek:
Interpretive Site:
Nice warm days with no wind has allowed fly fishers to enjoy the dry fly fishing in the Interpretive site. Winds, particularly in the afternoons, are hampering fly fisher efforts of catching trout. Midge nymphs in the morning are producing fish previous to the blue wing olive hatch. During the hatch blue wing olive parachutes and olive sparkle duns in size 20 are fooling the rainbows and browns that inhabit this section.
Hot Creek:
Canyon Section:
Nymphing in the canyon is the most productive way to fly fish in Hot Creek. The fish are holding around the structure like rocks, and weed beds. A nymph under neath a dry fly placed so it floats into these trout holding structures will produce trout. I like to fish my nymph patterns two to three feet underneath a size 16 Adams parachute. I tie size 16, or 18, olive quilldigons or size 18 or 20 bead head flash back pheasant tail nymphs onto 5X fluorocarbon. Best fishing is from 9:00 A. M. to 2:00 P.M.
Fly fishers are anxiously awaiting the run of cutthroat trout to enter the upper Owens River.
Upper Owens River:
Above Benton Crossing Bridge:
It's in between time on the upper Owens River. The trophy rainbow run out of Crowley Lake is done for the year. The cutthroat run has not started yet. I will start looking for this run after the 5th of May. The cutthroat run only lasts a few weeks and is usually done by Memorial weekend. With no trophy trout in the Owens River to catch fly fishers are hooking a few Juvenile rainbows and browns. There is not enough insect activity to get these fish into a consistent feeding situation. Tiger midges, zebra midges, pheasant tail nymphs, and gold ribbed hare's ears are fooling a few fish when fished under an indicator.
Bishop Creek Canal is a great spot for beginners and experts to catch hatchery rainbows and wild brown trout.
Bishop Creek Canal:
Behind the Ford Dealer:
In preparation for the general trout season opener on Saturday April 30, 2022 the California Department of Fish and Wildlife stocked Bishop Creek Canal with rainbow trout. These fish have been providing lots of catch and release fly fishing opportunities for fly fishers. With the general opener allowing these fish to be kept their numbers will dwindle quickly. There are still lots of wild brown trout willing to take a size 18 bead head flash back pheasant tail nymph or size 16 bead head flash back gold ribbed hare's ear nymph. I'm fishing the nymphs under an indicator for beginners and on a Euro nymph rig for myself.
SIERRA BRIGHT DOT FLY FISHING GUIDE SERVICE
sierrabrightdot.com
[email protected]
⦁ Instagram ⦁ @sierrabrightdot
⦁ Facebook – ⦁ Sierra Bright Dot Fly Fishing Guide Service
⦁ YouTube – ⦁ Sierra Bright Dot Fly Fishing
⦁ (760) 920-8325