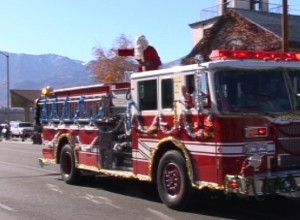 Lights, cameras and action on the Eastside this week.
The Bishop Chamber of Commerce hosts the Annual Christmas Tree Lighting Ceremony on Friday, December 3rd at 6pm in the Bishop City Park. Visit Santa at the Chamber's Visitors Bureau from 4:30 to 6 pm and enjoy hot cocoa, coffee, cookies, candy, and great holiday music from 5:30pm. Stroll the "Street of Lights" after the tree-lighting ceremony to savor and sample wares from over 40 participating shops, restaurants, and businesses. On Saturday, December 4th at 10am it's the Annual Bishop Christmas Parade on Main Street. This year's parade theme is "Dreams of Christmas". Call the Bishop Chamber of Commerce on (760) 873-8405 or log onto www.bishopvisitor.com for more information and to download a parade entry form. Closing date is Wednesday, December 1st and the entry is $10.
Friends of the Inyo brings The Wild & Scenic Film Festival to the Eastside on December 3rd, 4th and 9th. Each year, films from the Wild & Scenic Film Festival combine stellar filmmaking, beautiful cinematography and first-rate storytelling. They inform, inspire and ignite solutions and possibilities to restore the earth and human communities while creating a positive future for the next generation.
Three different programs will be screened at three different venues in Mammoth, Bishop and Lone Pine. All shows start at 7pm and at the following venues:
Friday, December 3rd at the Mammoth Lakes Arts Center, 549 Old Mammoth Road, Mammoth Lakes.
Saturday, December 4th at Cerro Coso Community College, 4090 West Line Street, Bishop.
Thursday, December 9th at the Lone Pine Film Museum, 701 South Main Street, Lone Pine.
Tickets are $10 each or free with the purchase or renewal of membership to Friends of the Inyo. For more information and to view each program log onto www.friendsoftheinyo.org. Call (760) 873-6500 to reserve your tickets now.