Press release
Mammoth Lakes, Calif. – The kitchen is the heart of any home—especially during the holidays—and the same could be said about the church basement kitchen in the funny and down-to-earth musical comedy, Church Basement Ladies.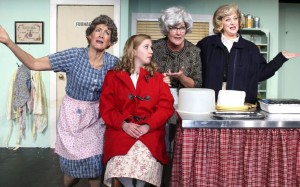 Presented by Mammoth Lakes Repertory Theatre (MLRT), Church Basement Ladies serves up heart-warming holiday humor as four women overcome various challenges through hilarious antics, toe-tapping songs, and lessons learned.
The show opens Dec. 17 on the Edison Theatre stage and runs Thursdays to Saturdays at 7 p.m. and Sundays at 4 p.m. until Jan. 3, 2016 (no shows Dec. 24, 25, and 31).
"I've been wanting to work with Playhouse 395 for years now," said MLRT's Artistic Director Shira Dubrovner. "It just took the right project. Having three talented veterans of Playhouse 395, including its Artistic Director Martha Reynolds, in this show is a dream come true."
Set in the basement kitchen of the fictitious West Cornucopia Lutheran Church of the Prairie in rural Minnesota, the musical finds its four hard-working ladies—and its one frequently befuddled pastor—cooking meals and solving problems during a holiday Lutefisk dinner, a funeral, an Easter fundraiser, and a wedding.
They stave off potential disasters (like—gasp!—interfaith marriage), share and debate recipes, instruct the young, and keep the pastor on due course while thoroughly enjoying—and bonding with—one other.
Based on the best-selling book "Growing Up Lutheran," the musical has been charming audiences across the nation since 2005. Director Juliana Olinka brings the show to the Eastern Sierra community.
"I love being able to entertain people of all ages," said Olinka. "Comedy and music are my passion and bringing this show to life with such an outstanding group of people on stage and behind the scenes is a holiday treat for me."
The cast features Reynolds, Director for Playhouse 395's upcoming show, Chicago, who portrays the widow and matriarch of the kitchen, Vivian; Karen Keehn, Playhouse 395's board member and recently seen starring in its Hello Dolly, plays the able-bodied
farm wife and jack-of-all-trades, Mavis; Jessica Burchett, last seen in Playhouse 395's South Pacific, plays the role of Karin, the best cook in the kitchen; Cassie Burgenbaugh, last seen in MLRT's Go, Dog. Go! and Winter Wonderettes, plays Karin's daughter, Signe; and Tim Casey, last seen in MLRT's Go, Dog. Go! and Of Mice
And Men, plays Pastor E. L. Gunderson.
Musical directors Dave Hardin and Zona Snyder are also regular participants in Playhouse 395 productions, and local choreographer Sarah Lawrence rounds out the production staff.
Church Basement Ladies will be cooking up some laughs from Dec. 17 through Jan. 3, 2015. Performances are Thursdays through Saturdays at 7 p.m. and Sundays at 4 p.m. Please note that there are no shows on Dec. 24, 25, and 31.
Ticket prices online are $20 for general admission, $18 for seniors, and $10 for students. Tickets at the door are $22; sorry no discounts. Reserve your seat during the busy holiday season
at www.MammothLakesRepertoryTheatre.org or by calling 760-934-6592. See you at the Edison!
QUICK FACTS
What: Holiday musical, Church Basement Ladies
When: Dec. 17 – Jan. 3, 2016, Thursdays through Saturdays at 7 p.m.; Sundays at 4 p.m.; closed Dec. 24, 25, 31
Where: The Edison Theatre, 100 College Parkway, Mammoth Lakes
Tickets: $20 for general admission, $18 for seniors, and $10 for students. Tickets at
the door are $22, sorry no discounts.
Contact: www.MammothLakesRepertoryTheatre.org or 760-934-6592