A train ride from the highway to the museum? That's the dream of the local group, Carson & Colorado. Last week, the Inyo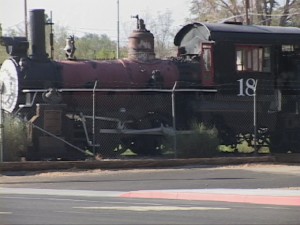 Supervisors said yes to the local group to provide volunteer services for the restoration of Engine 18 that sits at the edge of Dehy Park in Independence.
The engine points toward Highway 395 and does attract tourists who like to stop, take their pictures by the big engine and maybe even ring the bell.
The Inyo Supervisors approved a contract between the County and the Carson and Colorado Railway Society for volunteer services, plus acceptance of LADWP terms to conduct restoration activities at Dehy Park, owned by the City.
The long-term vision of the society is to set rail tracks and run Engine 18 to the Eastern California Museum not far from Dehy Park. Grant money may exist for that. The society volunteers will first work on the big engine itself.
In fact, they have invited the public to their locomotive restoration work day Saturday, October 2nd at 9am at the park. They will continue removing plumbing around the boiler and cab, remove air reservoirs and much more. Saturday evening, join the group for a BBQ dinner, raffle and live music at 5pm at Dehy Park in Independence.