Robert Wayne Goodman past away November 10, 2014 at the Bishop Care Center in Bishop, CA., due to complications of throat cancer. He was 54.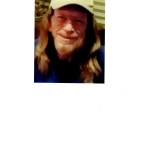 Robert (Bob) was born on April 19, 1960 in Long Beach, CA to his parents Richard and Dixie Goodman. Bob grew up and lived in Southern CA most of his life. In 2006, Bob moved to Bishop where he lived until his death. Bob was a very talented individual. His love of music began as a young child. Bob played with many bands in Southern California and Bishop CA. Bob was an accomplished musician playing drums, guitar and bass guitar. He developed many friends over the years and loved to just hang out and play music. Bob also mastered the art of "Handyman" skills and could fix or build just about anything.
Bob also had another love and that was fishing. Since childhood, if there was water near, you could find him by a lake, creek or river at any time of the day, fishing and fishing and just fishing.
In the last three years of his life, Bob found he had a talent for photography. He loved photographing the Eastern Sierra and Owens Valley. Some of his work is hanging in businesses and private collections in Southern CA and the Bishop area. He loved how the colors in the sky, mountains and valleys always changed and Bob successfully captured that in his photos. Sunrises and sunsets were his favorites. Bob found a special connection and bond with the land, nature, and God in the Eastern Sierra. He received his Lord and Savior Jesus Christ here in the mountains. He also bonded with many people to include special friends in the Eastern Sierra, Paiute/Shoshone Reservation and the Paiute Palace Casino.
Bob had a very special gift to help people. Whatever people needed help with, he would always try to assist them. He would spend time with people that were troubled with the challenges of life and try to bring a smile to them with his witty "off the wall" sense of humor. Bob was his own person and kept command of the way in which he would live his life.
Bob is survived by his loving parents Richard and Dixie Goodman, Brother Bill Goodman and wife Barbara, Uncle Bill Goodman, Aunt Vicki Goodman, Cousin Cathy Corkhill and husband Tony and their children, Cousin Karen Herrera and husband Mark and their children.
Bob believed in living his life his way. He was Bob to the end.
A memorial service for Robert Wayne Goodman will be held at the Grace Lutheran Church in Bishop, CA. on November 22, 2014 at 11:00 AM for all his family and friends. Following the service will be Bob's favorite holiday meal, Thanksgiving turkey with all the fixings.