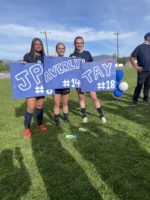 Bishop's Lady Broncos varsity soccer team hosted the Mammoth Huskies on April 30, 2021.  The temperature was approximately 93° and made for harsh playing conditions. Especially for the Broncos who had a short bench. Lady Broncos pulled off a 3-1 win bring their record to 4 wins and 1 loss.
This was the Bishop Lady Broncos seniors' last regular season home game. The team dedicated the game to our three seniors, Captain Taylor Dailey #18 (Center Defense), Captian Jordan Prichard #8 (Right Wing), and Averly Haye #14 (Right Defensive Back).
The Broncos came out striking hard when JuliAnna Jackson was able put the ball in the back of the net from a pass from Jordan Prichard  in the first five minutes of play. Jaden Davis scored late in the first half bring the half time score to 2-0.
Halfway through  the second half the Huskies scored from a perfectly placed midfield shot over the head of the Broncos' goalkeeper, Annabell Mojica.
Late in the second half Jaden Davis would pick up her second goal from a pass from Jordan Prichard.
The Broncos defense stood tall limiting the Huskies shots on goal.
The Broncos will travel to Rosamond next Friday for the regular season's final game.
Bill Dailey
BUHS Lady Varsity Head Coach