Armed with statistics and crime facts that caused some in the audience to secretly wish for more police officers, Chief Dan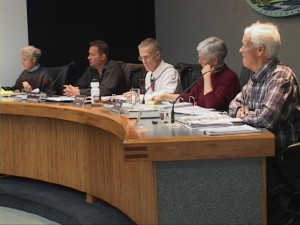 Watson made his case to the Mammoth Town Council to fill a lieutenant's position and to add a sergeant. But only one councilman said he would vote yes. The others hedged over the issue of money.
After the meeting, Chief Watson said he only recommends to the Council, and he understood their concerns about the town budget and how to pay for more in the police department. He said he would come up with more information and talk to them again in January, as the Council requested.
Wednesday night, Watson spoke of a 22% increase in thefts and assaults. He showed that other towns the size of Mammoth or other resorts employ more officers and non-sworn employees. Chief Watson said that officers in supervision have absorbed administrative work of no longer existing positions. Not enough supervisors, he said, "creates an unreasonable risk."
John Eastman said it's a matter of public safety. "It's clear we need to fill the lieutenant's job and add a sergeant." Rick Wood said he bought the analysis and the request, but had money concerns. He pointed to the disciplinary action now under appeal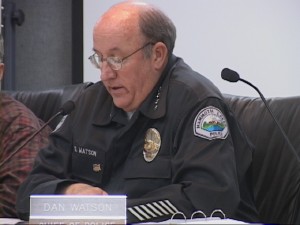 by terminated Sergeant Eric Hugelman. Wood said that could pose a $300,000 problem for the Town. He said, "We adopted an austerity budget. We are suffering in all departments from that." Wood said he had a lot of questions, was not saying no, but was not ready to vote.
Neither was anyone else. Matthew Lehman wants to see an outsourcing report underway. Jo Bacon supports the officers but wants to look at the big picture. Mayor Skip Harvey said, "We all want better public service, but what can we afford." More at the second meeting of the Town Council in January.