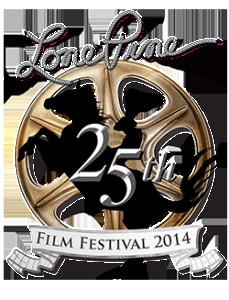 Check out the history below, and get all the details for the current festival here – http://www.lonepinefilmfestival.org/
25 years ago local hotel owners Kerry and Ray Powell teamed with author/historian Dave Holland along with a group of Lone Pine business and community leaders to pay tribute to the extensive Hollywood heritage of the Alabama Hills and to the actors, directors and producers that been coming for years to make films in and around Lone Pine.
At that time the area had been seen in hundreds of feature films, TV programs, and cliffhanger serials, most of them Westerns. Hollywood's long-standing love affair with the unique landscape of the Eastern Sierras had cooled somewhat, and film historians had largely overlooked the tradition of moviemaking in Inyo County. But Lone Pine's rich history could not be denied. The Alabama Hills and the Eastern Sierra terrain had been used in movies made by such prominent directors as John Ford, Cecil B. De Mille, William Wellman, William Wyler, Budd Boetticher, Henry King, and William Witney. The stars who worked here were legion, the standouts being John Wayne, Spencer Tracy, Gregory Peck, Gary Cooper, Humphrey Bogart, Randolph Scott, Tom Mix, Gene Autry, Roy Rogers, and William "Hopalong Cassidy" Boyd.
The Lone Pine group, along with the Inyo Council for the Arts, the California Arts Council, and the Lone Pine Chamber of Commerce sponsored a very special gathering to be held in Lone Pine. The first Sierra Film Festival took place on October 6 and 7, 1990. It was a unique event. For two days, attendees were treated to screenings of films—big-budget movies and lowly B Westerns alike, some of them quite rare —largely shot in the Alabama Hills. The special guests were actors, directors, and stuntmen who had worked on those films and others made at Lone Pine; among them were Roy Rogers, Terry Moore, Michael Gross, Richard Farnsworth, Rand Brooks, Eddie Dean, Linda Hayes, Pierce Lyden, Loren Janes, Jack Williams, William Witney, Irene Cuffe, and Joe Yrigoyen.
         The Sierra Film Festival trumped similar events with an innovation that left indelible impressions on those fortunate enough to take advantage of it: Dave Holland, who moderated panel discussions with the guests, mapped out a tour of locations in the Hills where specific scenes of the famous movies being shown had been shot. He tape-recorded a narration to be played on buses that drove attendees directly from the film screenings to the Alabamas. In other words, you could watch a movie in the morning, and then in the afternoon visit the spots where its memorable scenes had been staged and photographed.
           An unqualified success, the Sierra Film Festival—originally intended as a one-off tribute—became a yearly event that was soon drawing more than a thousand people from all across the country, and some from Canada and Europe. In 1993 it was renamed the Lone Pine Film Festival and year after year the Festival showcased movies, both obscure and well known, that had been produced in the area. The guest lists have included major stars and B-Western stalwarts alike. Folks like Gunga Din's Douglas Fairbanks Jr. and Yellow Sky's Gregory Peck rubbed shoulders with former Republic Pictures cowboy icon Roy Rogers and ingénue Peggy Stewart as well as veteran stuntmen like Loren Janes, Richard Farnsworth and his son Diamond. Lone Pine's singular history was enriched with the anecdotes they shared with attendees about working in the Alabama Hills.
          This year, as we celebrate the 25th Anniversary of the Festival, we are already making plans for the future as we look toward the 2015 festival when we will honor the memory of Tom Mix on the 75th anniversary of his death. The theme next year will be Silents Please! Where we will highlight a number of silent films, with live accompanist, filmed in the Lone Pine area. Among the films will be an encore presentation of The Roundup as well as films featuring stars Tom Mix, Buck Jones and Hoot Gibson.