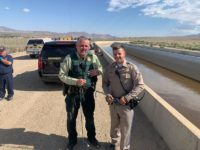 On August 25, 2022, at approximately 1253 hours, Lone Pine CHP received a report of an abandoned vehicle near the Los Angeles Department Water and Power (LADWP) aqueduct, near the town of Olancha, CA. When a CHP officer arrived on scene, he found a white 2019 Audi, abandoned with the door open and personal effects inside.
The officer began searching the area for anyone associated with vehicle. A few minutes later, a 24 y/o male from Ridgecrest, CA, was found walking along the aqueduct. The party related his friend had fallen into the aqueduct and was drowning. The officer began driving further down the aqueduct and located a 40 y/o male from Ridgecrest, CA, standing in wet clothes at the side of the aqueduct in distress. While the officer was talking with him through a locked gate, the party passed out and fell back into the aqueduct, where he was carried away by the moving water.
A National Forest Law Enforcement Officer arrived on scene and cut the locked gate for officers to gain access to the aqueduct. The CHP officer retrieved a rope from his patrol vehicle but when the officer realized the rope would not be long enough, he tied two lengths of rope together before throwing the lifeline toward the victim. The victim, whose head dipped below the surface several times, was able to retrieve the lifeline and both officers were able to pull him from the moving water. Personnel from LADWP and Olancha Volunteer Fire Department arrived on scene. Both parties were treated and released with non life-threatening injuries. Both parties were issued citations for trespassing on private property.
This incident is a reminder of the dangers associated with the swift moving water and strong current within the aqueduct. Stay out, stay alive!