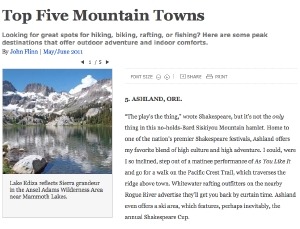 In a mostly bad news year for the Town of Mammoth Lakes, a bright spot.  The Auto Club's publication called VIA Magazine has named Mammoth Lakes number one in the top five mountain towns.
Mammoth beat out Bend, Oregon; Jackson, Wyoming; Crested Butte, Colorado; and Ashland Oregon.  The article says, "Geologic mischief tends to beget unforgettable landscapes – Exhibit A: Mammoth Lakes."  The article goes on to say that the town "squats atop an ancient caldera that, judging by the daily swarms of imperceptible mini earthquakes, is still quite restless.
The article points to footpaths to the "otherworldly Devils Postpile and the dreamy spires of the Minarets in the Ansel Adams Wilderness."  The writer, John Flinn, calls it the most enchanting corner of the entire range.  He also plugs Tamarack Lodge.
Auto Club public relations quoted Mammoth Lakes Tourism Executive Director John Urdi as saying, "We're honored to be named by AAA's Via magazine as the top mountain town destination in the country.  It's external validation," said Urdi, "for what we see around us everyday."