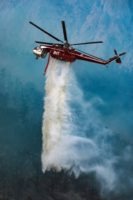 KERNVILLE, Calif. September 25, 2021 – The Sequoia National Forest today issued a Forest Order
No. 0513-21-34 due to the eastern spread of the Windy Fire to protect public health and safety. The
closure order prohibits the use of the recreation sites along the upper Kern River from the Riverkern Day
Use area north to the Johnsondale Bridge. In addition, the order closes the Packsaddle Trail and the
Cannell Meadow National Recreation Trail. The closure order will be in effect through October 31, 2021.
According to Forest Supervisor Teresa Benson, the Order is needed to provide for public safety while
the Windy Fire, west of this area, continues to exhibit extreme fire behavior due to dry fuel conditions,
gusty winds, and short-range spot fires.
This wildfire could threaten human life, property, and resource values. "In addition, County Road
Mountain 99 (M99), which runs along the upper Kern River and through this closure area, is the main
evacuation route in the event the Windy Fire changes direction and evacuation is needed," Forest
Supervisor Benson explained.
The Forest Order and map is available on the Sequoia National Forest website at:
https://www.fs.usda.gov/sequoia/
Federal, state, and local officers, firefighters and members of an organized rescue team, and any others
authorized by Forest Service permit are exempt from the closure order.
The health and safety of visitors and employees is our highest priority. We are committed to supporting
our communities and fulfill our mission as we all work together. Stay informed as we continue to monitor
the COVID-19 and Delta variant pandemic by following our webpage at www.fs.usda.gov/sequoia,
Facebook @SequoiaNF, or Twitter @sequoiaforest or call for current Forest information.