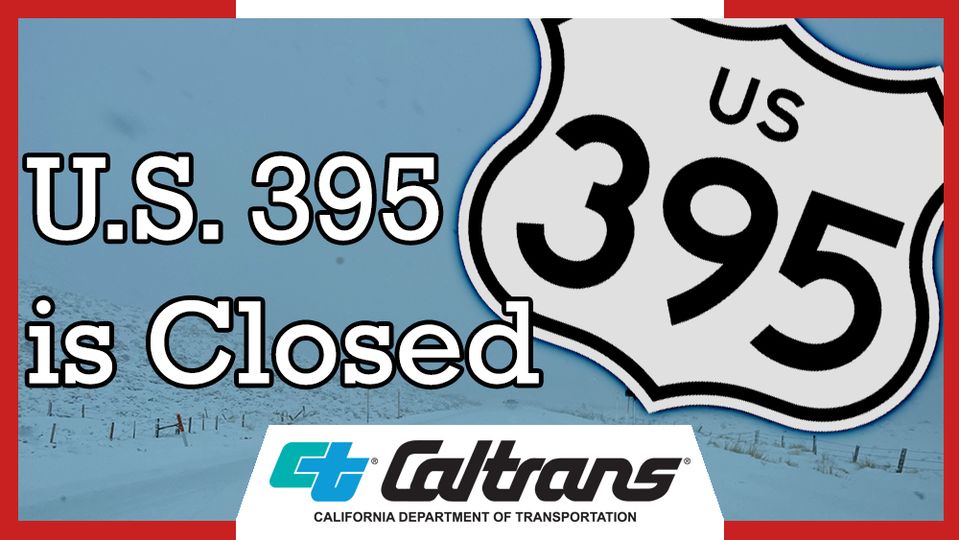 UPDATE: The closure parameters on U.S. 395 have changed. Due to heavy snow, the highway is now closed from Gorge Road (approximately 17 miles north of Bishop) to the town of Bridgeport. Caltrans District 9 snowplows are out on the highway, working to reopen the road.
U.S. 6 remains open as a detour.
BISHOP – Due to heavy snow and multiple vehicle spinouts, Caltrans has closed part of U.S. 395 in Mono County. The highway is currently closed from the junction of State Route 203 to the town of Bridgeport. U.S. 6 in Bishop is open as an alternative route, which connects to the Nevada 95. Caltrans will post updates on this closure to its social media channels on Twitter and Facebook.
Because driving conditions are slick, Caltrans asks that all drivers slow down and allow themselves plenty of time to reach their destinations safely. We're also reminding drivers to move over for Caltrans crews, CHP, and other emergency vehicles you may encounter. If you come across a snowplow on the highway, remember to give yourself enough space to keep you and our snowplow operators safe.
Before you leave home, check quickmap.dot.ca.gov or download the Quickmap app to your iOS or Android device to get the latest details on road closures, chain controls, and more. You can also check roads.dot.ca.gov or call 1-800-427-762