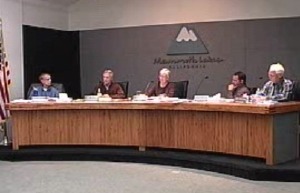 In June, two seats on the Mammoth Town Council will go up for election.  Nomination papers will become available through the Town Clerk starting February 13th.  The seats that will open up are currently held by Jo Bacon and Skip Harvey.  Here is the news release from the Town Clerk on the upcoming election:
A Municipal Election will be held in the Town of Mammoth Lakes on Tuesday, June 5, 2012 for the purpose of electing two members to the Town Council.  The Councilmembers presently occupying these offices are Jo Bacon and Skip Harvey.  The term of office for each seat is four years.  Councilmembers are paid $300 per month.
Candidates must be registered voters and reside within the Town.  Nomination Papers will be available from the Town Clerk starting on Monday, February 13, 2012.  The deadline for filing of Nomination Papers is 5:00 p.m. on Friday, March 9, 2012.  Citizens interested in running for a seat on the Town Council are encouraged to contact the Town Clerk, Jamie Gray, at (760) 934-8989, extension 267 for further information.  The Town Clerk's Office is located in Minaret Village Shopping Center, Old Mammoth Road, and is open from 8:00 a.m. to noon and from 1:00 p.m. to 5:00 p.m. Monday through Friday, holidays excepted.