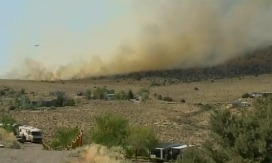 UPDATE:  BLM REPORTS THAT THE TOPAZ RANCH ESTATES FIRE IS NOW 100% CONTAINED.  NO FURTHER STRUCTURES WERE DESTROYED AND NO DEATHS OR INJURIES.
A more than 6,000 acre wildfire three miles east of Highway 395 near Topaz Lake has destroyed two homes and 17 outbuildings.  Hundreds of firefighters and crews remain on scene. Law enforcement asked residents to evacuate.
According to the BLM incident website, the TRE Fire started at 2pm on Tuesday, burning in cheat grass, sage brush and pinyon pine and juniper on mostly BLM land.  The fire scene is about 60 miles south of Reno.  Agencies say about 120 homes and 300 outbuildings are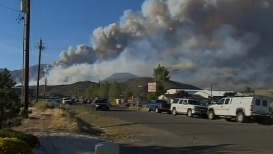 currently threatened.  The fire is being pushed by strong winds to the northeast away from the residential areas. Reno Television News reported that authorities think the fire may have started from a residential debris burn that was not completely out. The cause is still under investigation.
Reports say 450 personnel are now on the fire which measures 6,600 acres and was 10% contained at last report.  Estimated containment is Saturday, May 26th.  BLM reported that up to 13 twenty-person hand crews are on scene and what's known as a Type 2 Incident Management team has been ordered.
Helicopters were launched to put out fire in the more rugged areas, difficult for firefighters to access.  Winds remain a problem.  No injuries or deaths have been reported.  The fire has not interfered with highway travel.