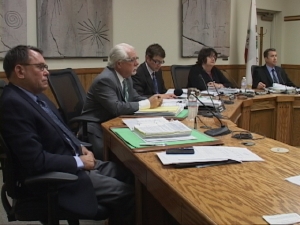 In recent weeks, the Inyo Supervisors issued a request for letters of interest and resumes from applicants who wanted the appointment as Inyo District Attorney. Tuesday, the Board went through a lengthy interview process of three candidates and unanimously appointed Bishop attorney Tom Hardy as Inyo County's new District Attorney.
The appointment is for the unexpired term of retired DA Art Maillet, ending January of 2015. The process of appointment took more than three hours Tuesday. Each of the three candidates gave five-minute opening statements. The candidates were Assistant District Attorney Joel Samuels, Attorney Tom Hardy and Attorney Jeffrey Greenberg, all local lawyers.
Then all of the candidates went to a separate office and were called back one at a time to answer a total of eight questions by the Board of Supervisors. One of the questions involved the DA's responsibilities to the public and relations with the media. Samuels said he couldn't talk about anything other than what is filed with the Court. Hardy made it clear that he would be as open as possible with the public and focus on good relations with the media.
The past DA's office had basically vowed not to speak to local reporters. After the Grand Jury suggested they needed better relationships with the news, the attorneys occasionally issued press releases or spoke briefly with media.
During a public comment period that followed the questioning, former DA Phil McDowell and two public defenders stood up in support of attorney Hardy. Board members discussed what they wanted in a DA. Supervisor Rick Pucci made a motion to appoint Tom Hardy. Jeff Griffiths seconded the motion, and it was a 5 to 0 vote. Once Hardy is sworn in, he will go to work as the new Inyo District Attorney.