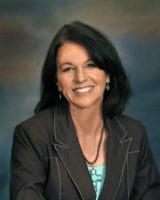 Fourth District Inyo County Supervisor Jennifer Roeser invited her constituents in Independence and Big Pine to let her know their concerns. After meetings held Sunday and Monday evenings, respectively, Roeser and County staff have no doubt the NASCAR race that is through-traffic down the communities' main streets and issues with internet service are at the top of that list.
Two of the best suggestions regarding traffic speed were a little frightening or not do-able. April Zerlack from Independence made her own red octagonal stop sign and walked boldly across U.S. Hwy. 395 with the sign held high. People stopped. Shelly Snoderly suggested going back to the one-lane in each direction with a turn lane and street parking spaces wide enough to open one's car door without having it torn off by a semi. That suggestion was well received by the Big Pine crowd. Unfortunately, Snoderly's suggestion isn't in the CalTrans book of alternatives for a major highway.
Unfortunately, neither issue is really in the hands of local government. The repeated mantra was "CalTrans business is to move traffic up and down the highway—period." But venting seemed to help. With CalTrans funding from the State Highway Operations and Protection Act (SHOP), work on sidewalks and bike lanes can be included, but are not funded.
Roeser and staff reviewed how Inyo County ended up with what many consider sub-par internet access through Suddenlink/Altice during the push to connect communities to internet services. The number of potential customers weren't really much of an enticement for competition. There is consideration to treat internet systems as a public utility, like water or electrical systems.
The past year under COVID restrictions and concerns exposed flaws in the system. At the same time, the value of the internet for zoom meetings, tele-medicine and education became obvious. Organizations comprised of rural counties in California and nation-wide have been working on what is referred to as broadband deserts.
There is hope, at least on the internet front. Legislation has been passed that would allow counties to own what is called the middle mile—the connection from the highway into communities and the federal infrastructure bill could provide funding to do that.