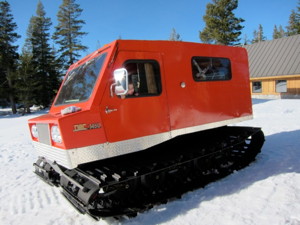 UPDATE 1-17-14:
Shermy was reported to have been found last night at Plasses resort. Reports also said suspects were using the cat to burglar over 35 cabins at Silver Lake Resort.  Reported to be under investigation.
Stolen Snow Cat
$2,000 reward, 1983 DMC 1450
"Shermy"
Between 1/10/14 and 1/13/2014 a snow cat was stolen from near Tragedy Springs (10 minutes west of Kirkwood). It was likely loaded onto a trailer at Tragedy Springs Rd.
If you have any information please call Michael Hohmeyer @ 510-301-9860 or [email protected]