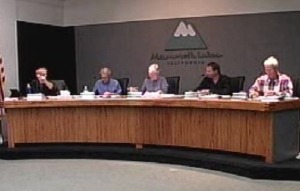 After four months of actual negotiations with Mammoth Lakes Land Acquisition, the Mammoth Town Council met again Monday afternoon in closed session to come up with a response to MLLA's latest proposal. The Council adjourned Monday's meeting to another closed session Wednesday, February 8 at 8am.  The two sides continue to talk about the $42 million that Mammoth owes MLLA in a breach of contract court case.
When asked how long she thought these negotiations would go on, Marianna Marysheva-Martinez, Mammoth's Financial Consultant, said that she doesn't know.  "We would like to be done as soon as possible," said Martinez, "but we want to approach this in a way that does not compromise Mammoth's long term fiscal reliability."  She said they want to arrive at what the Town can afford to pay.
Earlier Martinez had said that if and when an amount is determined, the Town would likely have to get what is called a judgment bond.  This is a way Town's can borrow money to pay off court judgments and then repay the bond over time.
If the two sides can not reach a payment agreement, the issue would go to mediation.  If that step fails, the Town would consider bankruptcy.
While these talks go on, the Town has also entered discussions with Terry Ballas and his partners regarding part of the Hot Creek Development Agreement which Ballas retained.  Martinez had earlier said that Ballas transferred the condo development portion of the agreement to MLLA.  She when MLLA and the Town reach agreement, those development rights would go away.
The right to develop a potential retail center, roads and a new terminal remain intact for Ballas who approached the Town in recent months to talk development.  Martinez said that the Town and Ballas are reviewing the existing development agreement.