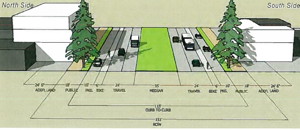 For many, Mammoth Lakes' Main Street and entrance to the town needs a re-make, but the question has always remained – who will pay for it? Tonight, Planning Staff will offer the Town Council ideas for Main Street broken up in modest phases with the admission that the Town can not afford to pay for all of it.
Other past studies have focused on Mammoth's Main Street but never made it past the concept phase. The current effort started a year ago and included public comments and opinions from Main Street business owners. The agenda item says the new plan includes ideas for improved parks and open space, direction for new development, support of all modes of travel, creation of a unique identity and solutions for parking and snow maintenance issues.
The agenda item report says planners selected a preferred alternative that they call the "grand avenue" option. Planners say short-term actions could include snow management and parking districts, landscaped medians, new intersection and pedestrian controls and new signage. More long-term action could include bus pull-outs, transit plazas, landscape buffers, a future cycle track and public parking.
The planning report candidly admits that the "total cost of the project is beyond the amount that the Town could fund alone…." The recommendation is partnerships with property owners and Caltrans. A consultant's estimate last fall indicated total cost at over $18 million with early phases at a cost of $2 million to $5 million. The Town Council will sit for a one-hour workshop starting at 5pm with Planning Staff on the Main Street Plan and then decide whether or not to accept it later in the meeting.
They will also likely make a decision on whether or not to hire Interim Town Manager Dan Holler as the permanent manager. At the last meeting, the Council directed staff to come up with a proposed contract with Holler that could be considered in public.
Other agenda items include a response to endangered species listings and the Inyo Forest Plan and possible acceptance of recommendations from the Mammoth Lakes Recreation Steering Committee.