Sierra Wave Presents The Tell-Tale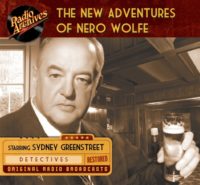 Ribbon which was first aired on March 30, 1951.  Nero Wolfe, also known as the galloping gourmet, was an armchair detective. He rarely left the house; instead his assistant, Archie Goodwin, would collect the facts and report back. Nero Wolfe would probably not have taken on many cases had he not needed the clients' money to pay for his two true passions: fine food and the collecting of orchids. Archie Goodwin, Wolfe's male secretary, prodded him into taking cases whenever the bank balance got a little low. Wolfe, as a character, is difficult to like. He's a self-assured type that does nothing unless he wants to, making his assistant, Archie Goodwin, deal with the outside world.
The New Adventures of Nero Wolfe is based on a series of books begun in 1934 by Rex Stout. There were two previous incarnations of the radio series: The Adventures of Nero Wolfe which ran in 1943 and 1944 and The New Adventures of (aka The Amazing) Nero Wolfe which ran in 1945 to 1946. Very few episodes from these earlier series are in circulation today. There was also one later series created by the Canadian Broadcasting
Be sure to listen.  Air times are Monday October 18 at 11:00 am, Wednesday October 20 at 3:00 pm and Friday October 22 at 8:00 pm.