Shelia Elaine Cantwell
08/10/1948-01/15/2016
Shelia was born in Indianapolis, Ind. to Bernard & Charlotte Cantwell. She grew up in Las Vegas, Nev. graduated from Bishop Gorman High School and went on to graduate from Mount Saint Mary's College in Los Angeles, Calif.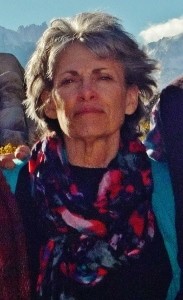 Shelia moved to New Meadows, Idaho in 1978 where her three children were born. In 1985 she moved to Lone Pine, Calif. and taught at the Mt. Whitney Preschool for 5 years.
She worked for the U.S. Forest Service for 23 years in office administration at the Mt. Whitney Ranger District, served as a union representative throughout her career and retired in August 2015.
Shelia loved the Owens Valley and was an active member of the Eastern Sierra Community Choir, Santa Rosa Catholic Parish, Friends of the Library, and various community groups.
She is proceeded in death by her father, Bernard, her brothers Christopher, Thomas and Timothy Cantwell, her infant son, Conor Cantwell-Frank, her children's father, Craig Frank and Satch, her Australian shepherd.
She is survived by her children, Caleb and Mariah Cantwell-Frank, her mother Charlotte Cantwell, her seven siblings, and many nieces and nephews. Shelia was a friend, mentor and inspiration to many.
A rosary will be said at Santa Rosa Catholic Church at 6pm on Friday, Jan. 29th and a celebration of life mass will be held at 11am Saturday, Jan. 30th at Santa Rosa, 311 E. Locust, Lone Pine, Calif. Reception to follow at Crowley Hall, east of the church.
In lieu of flowers, donations can be made to the St. Rose Society of Santa Rosa Catholic Church, contact Laura Blystone (760)876-5737 or Friends of the Library, Lone Pine branch (760)876-5031.