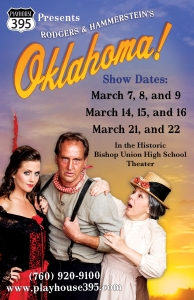 Playhouse 395's Production of Oklahoma!  Garners Rave Reviews  (press release)
You've heard about it and now you've got to see the live performance of Oklahoma! while there is still time. The captivating Playhouse 395 production everyone is talking about runs this weekend and next at the Historic Bishop Union High School Theater. The singing, dancing, laughs, romancing and eerie drama in the classic Rogers and Hammerstein Broadway spectacular brings to life the settling of the mid-west and the conflicts between cowboys and farmers in the early 20th century.
"I thought it was wonderful. The local actors were fantastic and I still can't believe that they are all volunteers," one show-goer was overheard saying after the play last Saturday night. Another said, "We never miss a Playhouse 395 show. They're always fun, entertaining and really well done, and the live orchestra adds so much to the performance. I think Oklahoma! is one of the best shows Playhouse has ever done."
The final six Oklahoma! performances run March 14, 15, 16, 21 and 22. Tickets are available at www.playhouse395.com or by calling 760-920-9100. Last Saturday night's and Sunday's matinee performances nearly sold out so get your tickets today!