Graveside funeral services for Robert H. Ferrey, 84, a resident of Bishop for more than 60 years, will be held Saturday, May 9, 11 a.m. at the East Line Street Cemetery. The Veterans of Foreign Wars, Post 8988, and David Lent will officiate.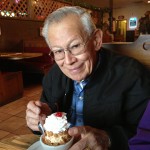 Born Jan. 13, 1931 in Los Angeles to Robert H. Ferrey II and the former Pomena J. Kelly, Robert was five years old when his father unexpectedly died. He was then raised by his mother and step-father in East Los Angeles. Shortly after his 1948 graduation from Garfield High School, Robert's family relocated to Chalfant Valley. Robert worked at the Bishop Bowling Alley as a pinsetter before going to work for Chalfant Press.
He joined the U.S. Navy as the Korean War began and served four years aboard the U.S.S. Rochester. Upon discharge, Robert attended Los Angeles Trade Tech, studying commercial printing. While at L.A. Trade Tech, he met the love of his life, Sandra L. Jensen. The couple married October 6, 1955 and would spend 59 years together.
After briefly living in Iowa and South Dakota, the couple returned to Bishop and both went to work at Chalfant Press, Robert as a compositor and Sandra as a linotype operator. Both stayed with Chalfant Press for many years, operating various printing equipment, including the newspaper web presses. They retired from printing in 2005 with Robert putting in more than 45 years as a commercial printer.
The couple had one daughter, Barbara, in 1964.
In his spare time, Robert enjoyed reading, working on cars, reminiscing about his Navy days and spending time with his wife, daughter and son-in-law. Friends recall Robert as a kind and caring man who shared his knowledge about printing and newspaper production with those willing to learn. Robert was named "Best Friend of Mule Days" by The Bishop Mule Days Executive Committee in 1990 for his many dedicated years of laying out and printing the event's Souvenir Program. Robert was also a lifetime member of the Veterans of Foreign Wars.
Robert died May 1 at Northern Inyo Hospital in Bishop following a brief illness.
Robert was preceded in death by his parents; brothers Keith Lovelace and Ralph Lovelace; sister Rosemarie Cheney; and one nephew.
Robert is survived by his wife, Sandra, and daughter and son-in-law, Barbara and Paul Laughon, all of Bishop; sisters-in-law, Betty Lou Grafton of Iowa, LouAnn Lovelace of Bishop; brother-in-law Robert Jensen and his wife, Meda, of Florida; and six nieces and five nephews.
In lieu of flowers, donations may be made to the VFW, Post 8988, or to the Laws Railroad Museum.