The Owens Valley Committee, local Sierra Club and others went to court to force Los Angeles to stop endless delays on the Lower Owens River Project. Their efforts led to water flows in the long-dry riverbed. The two groups still have issues with Los Angeles and Inyo County over the river. They were all headed to court Wednesday before Judge Lee Cooper.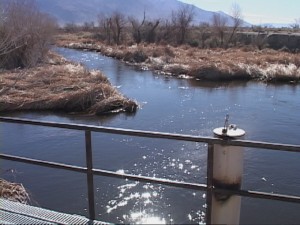 Don Mooney, attorney for the Owens Valley Committee, said that the OVC and Sierra Club had filed an action against LA regarding management of the river project and seasonal habitat flows. LA and Inyo responded and now the issues will go before Judge Cooper, who heard the original case on the river.
Mooney said the citizen groups have concerns about the management reporting plan and the successful implementation of the river project, concerns that plans are not consistent with the agreement on the river, concerns that LA and Inyo are not following the consultants recommendations for increased habitat water flows, and concerns that LA did not consult the Department of Fish and Game as required.
Judge Cooper will consider all of the issues in a hearing at 9:30 Wednesday morning in the main courtroom at the Inyo Courthouse.