USFS news release
The United States Forest Service will be opening the gate to Reds Meadow with access to valley destinations and the Devils Postpile National Monument on Thursday, July 4, 2019.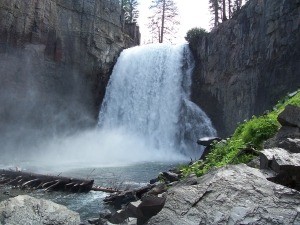 The extraordinary past winter that saw a snowpack of 170% above average, presented many operational challenges for the opening of the Reds Meadow area. The Mammoth Ranger District of the Inyo National Forest in coordination with the National Park Service, along with valuable assistance from Mammoth Resorts, the Town of Mammoth Lakes and the Reds Meadow Pack Station, made the decision to open the area to the public with the provision of the mandatory shuttle and the placement of restroom facilities for day-use visitors.
Due to the winter storm impacts and required infrastructure repairs, no campgrounds are open in the Reds Meadow area. USFS Campgrounds are anticipated to open later this summer. The NPS Devils Postpile campground will remain closed for the season.
The Reds Meadow shuttle operated by the Eastern Sierra Transit Authority (ESTA) is scheduled to commence operation for the 2019 season on Thursday, July 4. The shuttle will operate daily from 7:30 a.m. until 7:00 p.m., with the last departure from Reds Meadow Resort at 7:45 p.m.
Parking for the mandatory shuttle is located in lots A – D at Mammoth Mountain Ski Area (Main Lodge). The Reds Meadow Shuttle is scheduled to operate seven days/week through Wednesday, September 4, 2019. Further information about the Reds Meadow Shuttle is available online at www.estransit.com or by calling (760) 924-3184.
Visitors to Reds Meadow, Devils Postpile National Monument and other sights must purchase tickets for the Reds Meadow Shuttle from the window outside the Adventure Center at the Main Lodge. Backcountry hikers can purchase shuttle tickets from the bus driver in the valley. All dogs must be leashed and muzzled to ride the shuttle – only well-behaved dogs are allowed to board at the discretion of the driver. Thank you in advance for being a responsible dog owner.
For additional information regarding the Reds Meadow area and what visitor services, campgrounds and recreation amenities are available, please contact the Mammoth Lakes Welcome Center (760) 924-5500 or Toll Free: (888) 466-2666. The Welcome Center is located at 2510 Main Street and is open daily from 8:00 a.m. to 5:00 p.m.