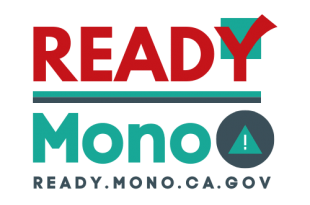 SITUATION REPORT
Incident: Winter Weather Update
March 13-14, 2023
Published: March 14; 4:50 a.m.
KEY ISSUES/CONCERNS
Atmospheric River Weather Event: The second Atmospheric River weather event is expected to
hit the Eastern Sierra early in the morning today (03/14) before exiting sometime on Wednesday (3/15). The storm is not expected to be as extreme as the past storm in terms of precipitation amounts, but due to already saturated soils and existing road damage in some areas, the impacts could still be substantial.
Communities across Mono County continue to experience varying levels of flooding and excessive snow, impacting roads and operations.
Major wind events are expected to accompany the incoming storm, creating possible impacts to
power lines, travel and possibly damaging or uprooting trees. Looking ahead, Thursday (03/16) and Friday (03/17) appears to be the next break. There could be another lighter and colder storm this coming weekend.
Mono Lake Avalanche Area Extremely Dangerous; Public Urged to Avoid Skiing the Area: There have been reported instances of people entering and skiing the closed area of U.S. 395 north of Lee Vining where there is an active avalanche mitigation effort underway. The public is urged to avoid this area as avalanches can occur without notice to the public, either naturally, or due to ongoing avalanche control efforts by Caltrans.
2-1-1 Information Service Available for Non-Emergency Information (English and Spanish):
The 2-1-1 Information Service has been established for Mono County. Residents and visitors are
encouraged to call 2-1-1 where they will be connected with a live operator who can provide them with information related to the current storm, and/or for access to basic health and human services. 2-1-1 is an alternative resource for individuals not able to access digital assets such as the READY Mono portal and agency social media platforms.
Avalanche Closure: The Walker Canyon section of U.S. 395 will remain closed until after the
incoming storm due to avalanche danger.
Sandbags Stationed in Each Community: Mono County and the California Office of Emergency
Services (Cal OES) have staged sandbags in each community for residents to use during the storm. Details on sandbag location information and maps for the staging areas are available here and on the READY Mono portal.
WARMING CENTER AND SHELTER
Warming Center (Bridgeport): A Warming Center has been set up in Bridgeport at Memorial Hall (73 N School Street). The overnight shelter will reopen should the need arise. Call (760) 924- 4633 for more information.
Temporary Evacuation Center (June Lake): A Temporary Evacuation Point has been set up at the June Lake Community Center. Call (619) 341-9584 for more information.
Reduced Rates for Evacuees at The Carson Valley Inn: The Carson Valley Inn will be honoring
rate of $89 plus tax in the main hotel until March 31st for anyone displaced or without power
(subject to availability). No pets. Call (800) 321-6983 for reservations.
Reduced Rates for Evacuees at the Virginia Creek Settlement: The Virginia Creek Settlement will be honoring a rate of $70 plus tax per night; $150 plus tax for 3 nights for anyone displaced or without power (subject to availability). Pets allowed. Call (760) 932-7780 for reservations.
EMERGENCY ALERTS
Evacuation Order: Due to an extreme avalanche threat, the Mono County Office of Emergency
Management issued an evacuation order to the residents on the South side of Highway 158 from the Fire Station to Reverse Creek Campground and Dream Mountain Drive in June Lake. A Temporary Evacuation Point has been set up at the June Lake Community Center.
Winter Storm Watch: The National Weather Service's (NWS) Winter Storm Watch that started
Thursday (03/09) at 4 p.m. has been extended to Wednesday (03/15).
Avalanche Warning: The Eastern Sierra Avalanche Center will extend an ongoing Avalanche
Warning into 7 a.m. Wednesday.
Flood Watch: The NWS has issued a Flood Advisory from Monday (03/13) at 1:25 p.m. until
Tuesday (03/14) at 11 p.m.
Mono County has declared a Local State of Emergency.
The Town of Mammoth Lakes has declared a Local State of Emergency.
Governor Newsom has declared a State of Emergency for Mono County and several other
counties impacted by the storm.
President Biden has declared a National State of Emergency.
WEATHER CONDITIONS
See above under Key Issues/Concerns.
TRAFFIC/ROAD CONDITIONS
Caltrans has closed U.S. 395 through the Walker Canyon. S.R. The highway is open from
Bridgeport north. S.R.182 out of Bridgeport is still in a full closure due to flooding. In addition,
U.S. 395 remains closed from Lee Vining to Bridgeport due to avalanches in the burned area
above Mono Lake.
There is no estimated time for opening the section of U.S. 395 north of Lee Vining where a series of avalanches took out transmission facilities and crossed the road, burying sections of the road under 30-40 feet of snow and debris. The best estimate is the road will be closed in that area for at least this week and into next week.
S.R. 167 from U.S. 395 to the Nevada state line is closed.
Benton Crossing Road is closed.
UTILITIES
No update.