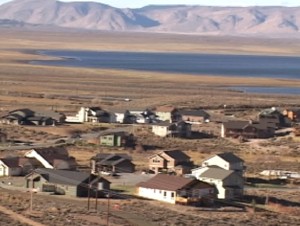 When Verizon was caught overheading fiber optic lines without permission in the Highway 395 Scenic corridor, the Public Utilities Commission punished them by requiring that Verizon install high speed internet service in Crowley Lake and Swall Meadows. Then, Verizon failed to meet the deadline. Now, the PUC says they do not accept Verizon's request for more time and they may be subject to penalties.
In a letter to Verizon, Public Utilities Commission Executive Director Paul Clanon wrote that he denies Verizon's request for more time to finish the Crowley-Swall project which was due by January 28th. Mr. Clanon said three things influenced his decision. Verizon's failure to provide more information on why they wanted more time was one factor. Secondly, Clanon said, in a December 10th report, Verizon failed to mention they wanted more time beyond the January 28th deadline. Finally, Clanon wrote, the Mono Supervisors and local residents sent letters opposing the extension.
Wrote Clanon, "Given the lack of information explaining the project delay, coupled with local opposition to Verizon's extension request, I hereby deny the request." He said Verizon is in violation of two PUC resolutions and may be subject to penalties. The PUC Director also says that Verizon should push ahead to provide broadband service to Crowley and Swall.
The Mono Supervisors had opposed Verizon's request for more time and had asked that the penalty for the communication company should be internet service for Paradise and expanded cell phone service for Mammoth Lakes.