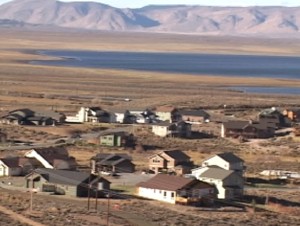 On Saturday around 9pm, two California Highway Patrol officers and one sergeant, assigned to the Mammoth Lakes resident post responded to a call of a possible hit and run traffic collision that occurred on Juniper Drive, east of Crowley Lake Drive. The CHP said damage was done to a resident's front yard.
With assistance from the Mono County Sheriff's Department, the surrounding area was searched and a vehicle matching the suspect vehicle description was located at a residence in Crowley. CHP officers made contact with the occupant of the home and identified the driver, Ms. Susan Hiller, age 63 of Crowley Lake.
A driving under the influence investigation was conducted and a preliminary alcohol screening test was administered. The preliminary test yielded a blood alcohol content of .23 percent. Ms. Hiller was arrested and transported to the Mammoth Lakes Police Department where she submitted to a chemical test.
Ms. Hiller was then cited for driving under the influence of alcohol and driving with a blood alcohol content of .08 percent or greater and then released to the care of a friend.