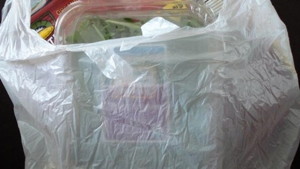 The Bishop City Council will give it another go on a plastic bag ban when they meet tonight.
Senate Bill 405 would prohibit grocery stores, large retailers, convenience stores and food marts from giving customers single-use plastic bags. The bill would also require stores to have reusable bags available for customers to buy.
The Council delivered a tie vote on this issue at the last meeting, but Councilman Keith Glidewell was not there. Mayor Jim Ellis and Councilman Dave Stottlemyre voted against support of the plastic bag ban. Councilwomen Laura Smith and Pat Gardner voted for it. The Mayor suggested they bring the issue back with a full Council.
And, if you have a preferred time for the Bishop City Council to meet, tonight's meeting offers a public hearing on an ordinance to change the time of regular meetings. The Council may make a decision to change meeting times from 7pm to 1pm and Study Sessions from 4pm to 10am on the second and fourth Mondays of each month.
Officials say the earlier meetings would save $12,000 in staff overtime annually. Council members also felt the earlier times would give citizens the chance to attend daytime meetings since they believe many are "unable to attend meetings in the evening." This may be a reference to Bishop's large retired community since working people would not likely be able to attend daytime meetings.
On what's not likely to raise controversy, the City Council was expected to consider approval of a resolution to establish the City of Bishop as a "Healthy Eating Active Living City." The agenda item says in the past five years the City has taken steps to provide employees with healthy programs and choices including an employee wellness program.
City Staff has also been an active member of Team Inyo, which is a group of health practitioners, school administrators and community leaders who focus on public health and promotion of healthy choices. The agenda says this resolution is "concrete affirmation that the City of Bishop recognizes the public health threats from obesity and will continue to be a leader in combating the negative effects of poor health choices."
Other agenda items – a consulting agreement with Mammoth Lakes Housing, and the possible hiring of reserve police officers.