Phyllis Joan Myers, a resident of Bishop CA for 14 years, passed away on December 1, 2016 at home after a long battle with ovarian cancer.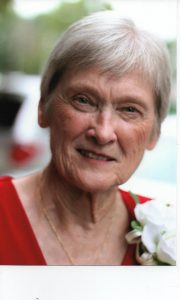 Phyllis was the youngest of 3 children and was born in Eglantine Arkansas on April 16, 1941 to John Wirte Hunt and Inez Hunt. In 1959 she married Leroy Myers and they had two daughters Donna and Debra.
In 1964 the young family moved from Arkansas to Oxnard, California where Phyllis and Leroy lived until they retired and moved to Bishop in 2002.
In addition to being a wife and mother, Phyllis worked as a substitute teacher and a church secretary. She spent the 20 years prior to her retirement working as a civilian for the Seabees at Port Hueneme Naval Base. She was a member of the Church of Christ her entire Christian life.
She took a special pleasure in singing and sang alto with the church and lead with the High Sierra Chorus, here in Bishop. Her special joys were her two granddaughters Kathleen and Kacey and her very great gift, her great granddaughter Haylee.
She is survived by her husband of 57 years, Leroy Myers, her daughters Donna Holland (Daniel) of Bishop California, and Debra Wibracht (Gary) of Nixa Missouri. Granddaughters Kathleen Bowen of Seattle Washington and Kacey Caspers (Benjamin) and Great Granddaughter Haylee Caspers of Boise Idaho.
She was preceded in death by her parents Wirt and Inez Hunt, her sister Dorothy Cates and brother John Hunt.
A memorial service will be held on December 10, 2016 at 10 am at the Church of Christ located at 287 Grove Street in Bishop, California.
She will be interred at Eglantine Cemetery in Eglantine, Arkansas where several generations of both her mother and father's family are buried.
Phyllis was truly the embodiment of the wife of noble character worth far more than rubies described in Proverbs 31, "who watches over the affairs of her household and does not eat the bread of idleness. Her children arise and call her blessed; her husband also and he praises her: Many women do noble things but you surpass them all." Phyllis was the best of wives, mothers, grandmothers and great grandmothers. She will be missed by her family and friends greatly.
In lieu of flowers contributions can be made to the Eastern Sierra Cancer Alliance at www.escanceralliance.org.