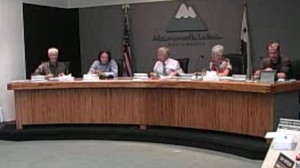 The story of town managers in Mammoth Lakes points to a list of some nine administrators, several controversies, untold stories and more than a few forced out. The list started in 1986 with a somewhat refined man, Ray Windsor, who eventually moved on followed by Paul Marangella and then the popular Glenn Thompson. The controversial Tracy Fuller came next. She resigned after three years. She was followed by Steve Julian who also left after three years. Charlie Long lasted one year. Then came Rob Clark, who managed to hold on for seven years. As town managers, Dave Wilbrecht worked about a year and so did Marianna Marysheva-Martinez. Now, the Mammoth Town Council will add another name to that list.
When the Council meets tonight, one of the items on their agenda asks them to approve and start a formal process for the recruitment of a permanent Town Manager. Current Interim Manager Dan Holler says he will apply for that job. He said he sees nothing in town to discourage him.
Since Holler will apply, he can not take charge of the process. An agenda bill on this issue says Town Attorney Andrew Morris will spearhead the effort in coordination with Personnel and Risk Analyst, Sarah Roessler Vigilante. The agenda says those two are already in the process of seeking referrals to recruitment consultants.
The options open to the Town Council include Option 1 which is to engage a consultant to identify what to look for in a new Town Manager and then recruit. At the same time, the Council would start a process of public discussion on what type of person the people want for their manager. Option 2 would put public discussion first. Option 3 leaves other ideas open for the Council.
The agenda also points out that the Council and community are "in need of stable, permanent leadership" in the role of Town Manager. The agenda bill says professional recruitment would help achieve the goal. The cost for hiring a consultant could amount to around $26,000. The money would come from projected salary savings based on the difference in pay between Mr. Holler at $158,000 per year and former Manager Martinez at $208,000.