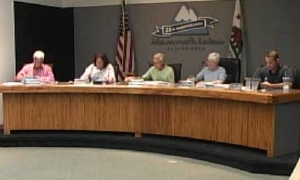 Lots of incoming and outgoing at tonight's Mammoth Town Council meeting. It starts with the proposed dissolution of the Mammoth Lakes Trails System Coordinating Committee.
It will likely dissolve as part of the incoming Mammoth Lakes Recreation organization. No longer needed, Mammoth Lakes Trails Committee will be recognized tonight. Members include Peter Bernasconi, Stuart Brown, Sandy Hogan, Bill Sauser, Bill Taylor and Sean Turner.
Next on the agenda – recognition of outgoing Mayor Rick Wood and Councilmembers John Eastman and Matthew Lehman. After that, according to the agenda, the Council will adopt the resolution reciting the facts of the General Municipal Election of June 3rd, declaring the results. This action also includes the administration of the oath of office to the newly-elected Councilmembers – John Wentworth, Shields Richardson and Colin Fernie.
Still more to come. The new Council will select a Mayor and Mayor Pro Tem. After that, the Council makes appointments to commissions and committees.
Then it's on to Town business. Two public hearings are scheduled. One, to approve the update to the schedule of fees and charges for Town services including fees for the building division. In a separate matter, the Council may adopt the Housing Element Update Negative Declaration and the Housing Element Update itself.
And, that's about it for the newly elected Council and their first meeting.