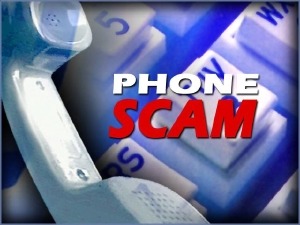 The Bishop Police Department would like to advise the public and make all aware of a new twist on a telephone scam circulating the City of Bishop. Bishop Police Officers have recently taken several incidents involving citizens receiving telephone calls where the subject on the other line is asking for money.
The new phone calls are being described as; a recording from a "jail" plays upon the resident picking up the phone, once answered the recording will state name and location of the jail. The recording offers the resident automated options on how to pay while breaking long enough for an unknown male to state their name. The recording will state, "Central Jail" from Mexico, requesting bail for the release of a family member. The recording says to, "Hit 1 to take the call and 0 to see how much it costs." Next, a non-recorded male voice will say their name; the name may be in a thick accent so it will be hard to understand.
Residents are receiving 2 or more calls of the same nature during the early morning hours. Resident's receiving these messages are encouraged to hang up and disregard these calls.
The Bishop Police Department would again like to stress the importance of never providing personal information over the phone as well as giving bank account information. Please try and verify all information regarding the company or organization you may be talking to.
If you have a questions or concerns or have been a victim of these types of calls, please contact the Bishop Police Department at 760-873-5866
K. Coffman
Bishop Police
Public Information Officer