OLIVE (Gray) UNKRICH
1922 – 2016
Olive (Gray) Unkrich passed away peacefully and surrounded by love on August 3, 2016, in Bishop, at the age of 94. She was a resident of Bishop, CA, for the last 12 years of her life. Prior to living in Bishop, she lived in Southern California after entering the United States from England in 1946.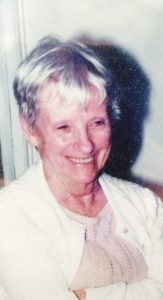 Olive was born on June 4, 1922, in Hanley, Stoke-on-Trent, Staffordshire, England, to parents Ernest and Elizabeth Gray. She was the second eldest of 5 children – 2 sisters and 2 brothers. In 1945, Olive met US Army soldier, Robert Unkrich, in England where they married. She later gave birth to her only child, Teri (Unkrich) Roberts-Allsup. In 1946, Olive and her daughter traveled the Atlantic Ocean on the USAT Henry Gibbons to the United States, through Ellis Island, and then by train to Pasadena, CA, where they reunited and lived as a family. They soon moved to North Long Beach. Olive was a full-time homemaker and said it was a very lonely and sad time being away from her homeland and family. In 1973, she moved to Mission Viejo, CA, to be close to her daughter.
Olive is preceded in death by her brothers Ernest and Joseph Gray, and Sister Rita (Gray) Murphy of England. She is survived by her daughter, Teri Roberts-Allsup of Bishop, CA, Granddaughter Rachel (Roberts) Heredia and Husband Adrian of Ladera Ranch, CA, Grandson Jeffrey Roberts of Big Pine, CA, 5 great-grandchildren, Sister Marie Lovatt and Husband Ted of Riverside, CA, numerous nieces, nephews, and many precious friends and caregivers.
Olive grew up in a loving home and endured the many hardships of WW II. She was part of the Civil Nursing Reserve during the war and also made detonators in the munitions factory to help in the fight. As a young girl, Olive sang for King George V of England and had the voice of an angel. She also had a passion for poetry and would often recite her favorites from memory, which was a blessing to all. Later in life, her passion turned to children as a pro-life advocate. She realized her God-given talent to cross-stitch angels and symbolic pro-life red roses, which to this day still hang in many homes and doctor's offices. Olive also loved watching the Angels play baseball. As a "pioneer," she led the way for her family to come to the United States by first becoming a United States citizen herself and then an advocate for her family to realize the freedoms and all other blessings living in America provides.
Olive was a treasure, she gave all she had, and had a spirit full of joy and laughter. She was a wealth of knowledge and wisdom, and full of wit and humor. She was a beautiful soul and had a deep faith and trust in our Lord Jesus. Olive was content and grateful with whatever she had and graciously shared with others. She was a great listener, influenced many lives, and brought hope, encouragement, and truth to the brokenhearted. Well done good and faithful servant!
Rosary for Olive to be held at 6:00 p.m. on Friday, August 19, 2016, with Mass at 10:00 a.m. onSaturday, August 20, 2016 – Our Lady of Perpetual Help Catholic Church – 849 Home Street, Bishop, CA. Interment services to follow at the East Line Street Cemetery – concluding with time to fellowship and luncheon at the church.
In lieu of flowers, the family requests that donations be made to "Witness to Life" – c/o Our Lady of Perpetual Help Catholic Church – 849 Home Street, Bishop, CA 93514.