(Press Release) Agents with the Inyo Narcotics Enforcement Team (INET) concluded a drug investigation in the Bishop area into the sales of methamphetamine.  The investigation resulted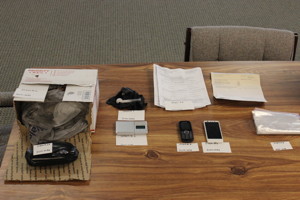 in one arrest and the seizure of a large amount of drugs.
On the evening of Friday, 04/04/2014, INET Agents along with the assistance of the Inyo County Sheriff's Department, conducted a search at a residence on Tu Su Lane.  The search was part of an investigation into Dustin Anthony Smith (age 26), a resident of Bishop, for the sale and possession for sale of methamphetamine.  At the residence, INET Agents seized approximately one pound of methamphetamine which resulted in the arrest of Smith.
Through investigation, INET Agents believe Smith was a mid-level dealer who received large amounts of methamphetamine (of a pound or more per shipment) from a wholesale–level supplier.  In turn, Smith would then supply smaller quantities of methamphetamine to street-level dealers in Inyo and Mono Counties for them to sell.
INET Agents began the investigation into Smith when they received information he was involved in criminal drug activity.  Smith was booked at the Inyo County Jail for Possession of Drug Paraphernalia, Possession of a Controlled Substance, Possession of a Controlled Substance for Sales, and Felony Child Endangerment.